Paralegals
---
To Apply:
If you are interested in a paralegal position at Dykema, click HERE.
We are always interested in qualified talent. Applicants may submit for a future opportunity. We request paralegal applicants to possess a college degree, ABA approved paralegal degree or certification is preferred. We request a resume and cover letter in PDF format from all applicants. Your cover letter should detail your preferred position and area of practice.
---
Challenging, friendly and rewarding work environment
Dykema's competitive compensation package consists of salary, bonus eligibility and a variety of benefit choices including health, dental, life and vision plans, health and dependent care reimbursement programs and tax-saving opportunities. Dykema offers technology and transportation stipends, generous paid time off, tuition reimbursement, support for professional membership fees and dues and professional development programs.
We've also built in options to help our employees cope with the many demands of today's busy lifestyles, including business casual dress, alternative work schedules, a Parental Leave policy and an Employee Assistance Plan for employees and their family members which offers seminars covering eldercare, parenting, financial planning, stress and time management. Dykema also partners with several organizations including banks, retail stores, auto dealers, etc., to provide discounted products and services to our employees.
---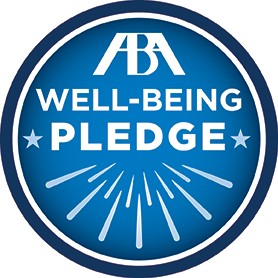 Dykema has joined the ABA's Well-Being Pledge & Campaign, designed to support lawyer well-being and address the profession's troubling rates of alcohol and other substance-use disorders, as well as mental health issues.
As a signatory of the ABA's Well-Being Pledge & Campaign. Dykema is committed to the overall health and well-being of our members and employees. We invest in programs and resources that support our members and employees, and their families, in their whole life.
---
Discover more about Dykema's values: