Attorneys
Practice Areas
Jimmy Azadian Included in Los Angeles Business Journal's Leaders Of Influence: Top Litigators & Trial Lawyers
July 13, 2020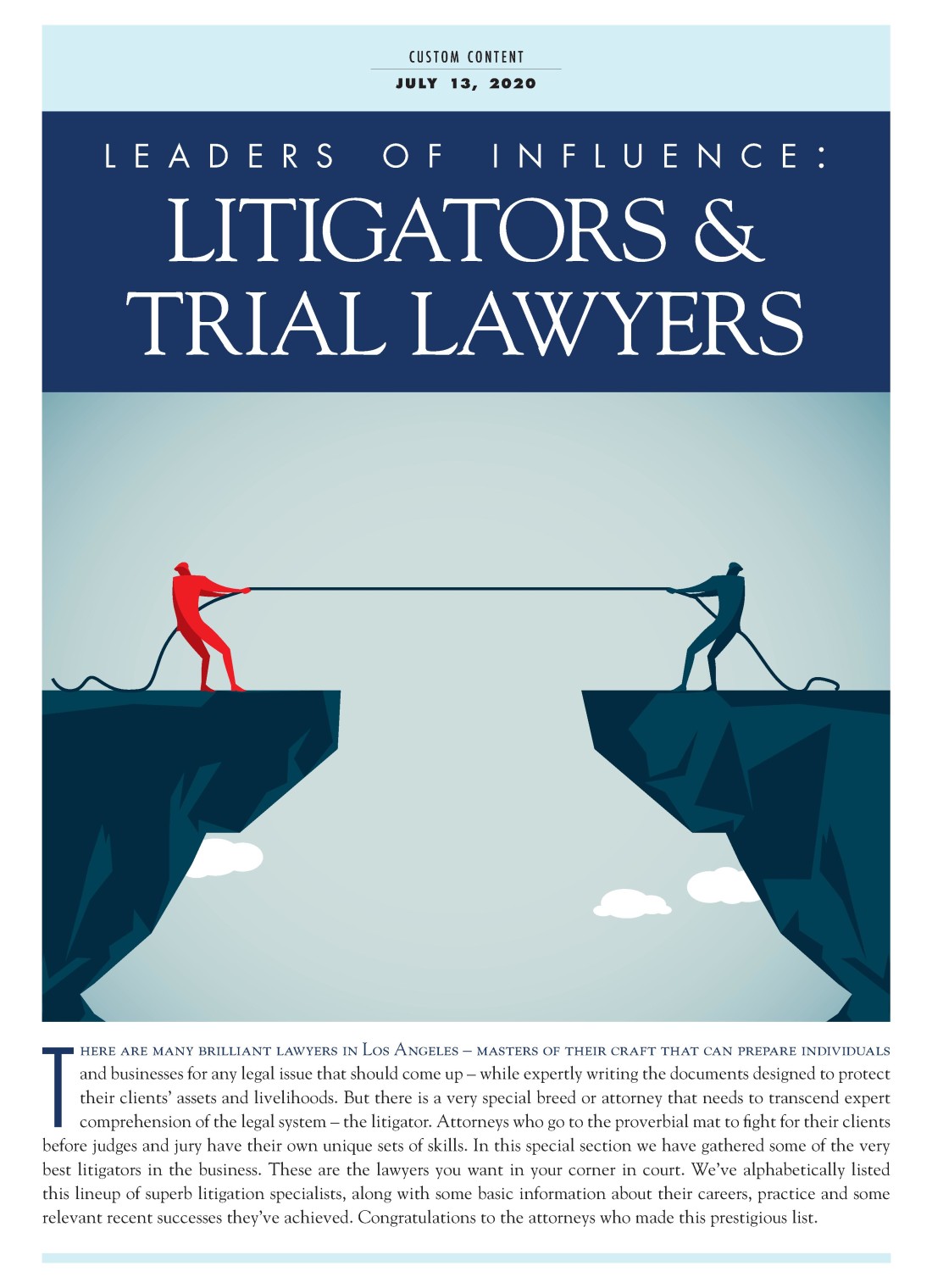 Dykema, a leading national law firm, is proud to announce that Jimmy Azadian, Member in the Dykema's Litigation Department and Appellate Practice Group, was selected for the Los Angeles Business Journal's annual Leaders Of Influence: Top Litigators & Trial Lawyers listing. Azadian was featured among other nominees in a special section of the July 13, 2020, issue of the Los Angeles Daily Business Journal.
Each year, the Los Angeles Business Journal recognizes some of the best litigators in Los Angeles in this special section. According to the publication, these selected attorneys were chosen for their work, dedication to clients, accomplishments and success. Azadian was one of only 75 attorneys selected for inclusion in the listing.
Azadian's practice focuses on complex federal and state court litigation raising cutting-edge and core business and constitutional issues. He has served as counsel in more than 250 appeals and writ proceedings covering a wide variety of industries and subjects across the country. Throughout his career, Azadian's been responsible for arguing cases that have had an immense impact on the law. In 2019 alone, he served as embedded appellate counsel in two major cases, helping guide both trial teams to jury verdicts in favor of Dykema clients.
Outside of his practice, Azadian is extremely active with the United States Court of Appeals for the Ninth Circuit. He currently serves as Chair of the Appellate Lawyer Representatives, as appointed by Ninth Circuit Chief Judge Sidney Runyan Thomas. He was also recently appointed to serve on the Law Clerk Resource Group, a subsection of the Workplace Environment Committee. He's also been a court-appointed mentor to civil practitioners through the Court's Mentorship Program and has served two terms as a court-appointed member of its Advisory Committee on Rules of Practice and Internal Operating Procedures.
Azadian earned a J.D. from the Pepperdine University School of Law and a B.A. from the University of California, Los Angeles. He's also served as an adjunct professor teaching courses in Appellate Advocacy at Pepperdine University School of Law, Law and Economics at UCLA, the Supreme Court Practicum at Northwestern University School of Law, and Legal Ethics at USC.