Dykema Earns Five First Place Awards from The Legal Marketing Association's 2020 Your Honor Awards Programs
January 21, 2021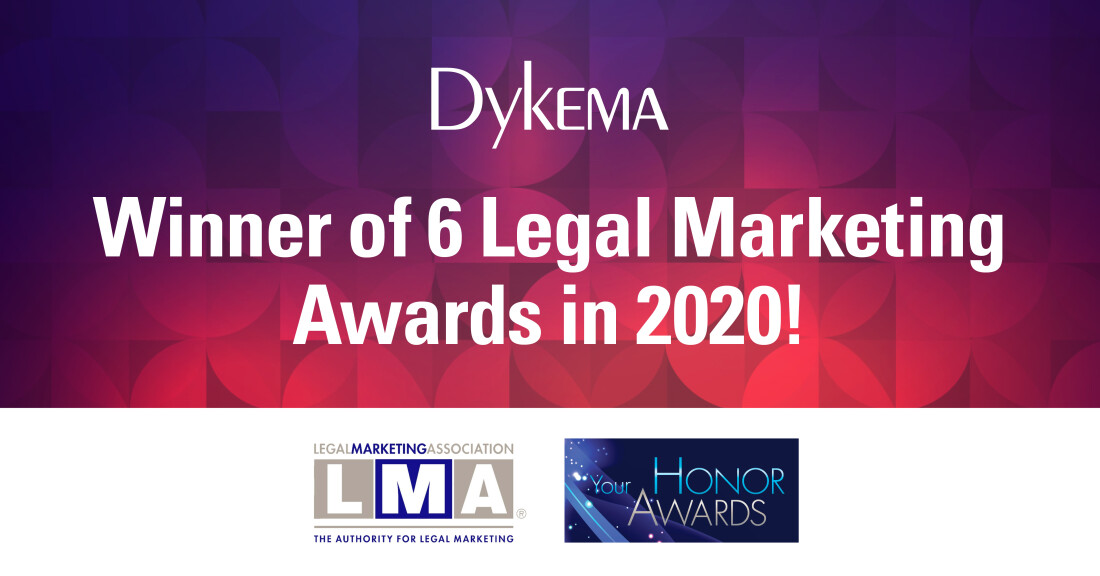 Dykema is proud to announce that the Legal Marketing Association (LMA) has once again recognized the firm's Business Development and Marketing Department as a first-place winner in five individual categories between the 2020 LMA Midwest and Southwest Region's Annual Your Honor Awards. Furthermore, the firm also received recognition as an Honorable Mention in an additional Southwest Region Award category.
Between its six distinct 2020 awards, as well as the firm's previous National and Regional recognition over the past few years, Dykema is the winningest law firm for LMA Your Honor Awards from 2018-2020.
"Just as it was for most professionals, 2020 was an exceptionally difficult year," said Linda Moss, Dykema's Chief Business Development & Marketing Officer. "Our department worked more hours than ever, brought fresh ideas for our attorneys and contributed in a substantive way to the firm's strategic goals. I could not be more proud and grateful for our talented team."
The LMA Your Honor Awards are designed to recognize excellence in legal marketing and business development and to showcase some of the best ideas and projects from LMA members. Winners were determined by a panel of judges who are members of LMA International. Dykema's Chief Business Development & Marketing Officer, Linda Moss, accepted the awards along with the key team members involved in these programs, including Frank Johnson, Tony Marion, Sarah Minjoe and Amy Trevino.
The campaigns and categories for which Dykema was recognized for 2020 Your Honor Awards are listed below.
Midwest
Southwest