Dykema Wins Gold Horizon Interactive Award for Its 2019 Holiday eCard
June 26, 2020

Dykema is proud to announce that its Business Development & Marketing Department won a Gold Horizon Interactive Award for its 2019 holiday ecard. Dykema partnered with GCC Portfolio, an industry leader in customized client x solutions, to produce the winning holiday ecard.
Dykema's 2019 holiday ecard featured the theme, "Together we can do wonderful things." Linda Moss, Chief Business Development & Marketing Officer, said that the greeting "served as a hopeful message to recipients and was a beautiful expression of one of Dykema's core values, diversity and inclusion." She went on to recognize Tony Marion, Director of Marketing Operations, for his leadership in designing the card.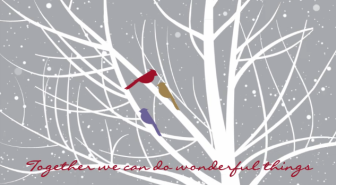 The Horizon Interactive Awards are a prestigious international competition recognizing outstanding achievement among interactive media producers. The competition honors the best websites, videos, online advertising print media and mobile applications. This year, Dykema joins other Horizon Interactive Awards winners Microsoft, Salesforce, Fossil (UK) and The Honest Company.
"It's incredibly exciting that Dykema has won a Gold Horizon Interactive Award for their holiday ecard," said Michael Howard, Vice President of GCC Portfolio. "We're thrilled when our partners get deserved recognition."
Each year, the Horizon Interactive Awards receives thousands of entries from all over the world and a volunteer panel of industry professionals, from diverse multi-media, graphic design, advertising and marketing backgrounds, review the entries to determine the work that is to be recognized.