Attorneys
Practice Areas
Dykema's Government Policy Podcast: Washington, D.C., Outlook — February 2019
February 15, 2019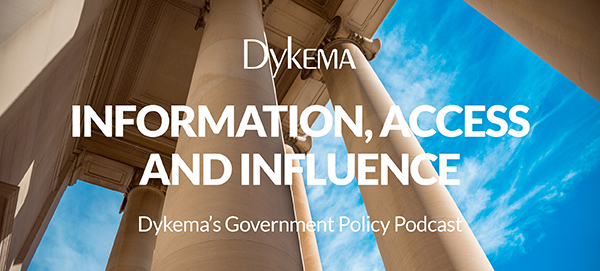 In this month's podcast, Government Policy Advisors, Jim Brandell and Andy Buczek in Dykema's Washington, D.C., office discuss Committee Investigations and Oversight with special guest Jonathan Feld, Leader of Dykema's Government Investigations and Corporate Compliance Team.
To listen to the podcast, click here.
To learn more, contact Jim Brandell at jbrandell@dykema.com, Andy Buczek at abuczek@dykema.com or Jonathan Feld at jfeld@dykema.com.
About Dykema's Government Policy Podcast
Dykema's Federal and State legislative teams share updates and insights on the ways to help companies and organizations navigate the political landscape.