Attorneys
Honoring the Women Trailblazers Who Paved the Path
March 1, 2021
We are honored to kick off Women's History Month by reflecting and honoring the extraordinary accomplishments of Dykema women attorneys and their role in shaping our firm and those around them. While each of these extraordinary women are no longer with us, their legacy remains and we honor their triumphs, and the paths they paved that have created limitless potential for others.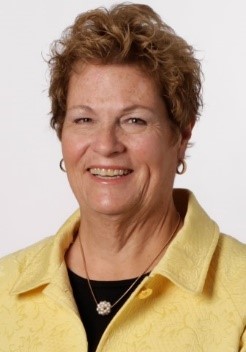 Kathrin Kudner (1950-2020) – Kathy Kudner was a Member in Dykema's Ann Arbor office and a former chairperson of the Health Law Section Council of the State Bar of Michigan. She led a life of personal and professional service. Upon graduation from the University of Colorado in Boulder, she served two years in the Peace Corps in the Philippines. Her service in the Corps was a defining time in her life that led to her pursuing a Masters degree in Health Care, summa cum laude, from the University of Missouri after which she worked for a rural medical and dental health care system in Nevada. Kathy returned to school a third time for a law degree. She graduated cum laude from the University of Toledo, (where she was also Editor of its Law Review) and then began a 35-year career as a health care attorney with Dykema. Her work was guided by her commitment to the health profession and public health and was truly valued by her clients. She took a particular interest in younger attorneys at the firm and provided important mentorship and advocacy for their perspective. Kathy was also involved with pro bono activities throughout her career—most recently with Sound Off, an online mental health consulting service to veterans and active-duty personnel.
Kathy specialized in the representation of health care providers and health plans, on matters including contract drafting and negotiations, mergers and acquisitions, joint ventures and affiliations, nursing home and hospital bond financings, tax exemption issues, hospital and nursing home licensure and certification, managed care licensure and contracting, HIPAA compliance, FDA and clinical research, Stark and fraud and abuse, compliance programs, and physician and physician group practice matters. "Kathy had the extremely rare skill set of knowing her subject matter (health care law) better than anyone on the planet, being able to translate her knowledge into practical 'real world' solutions and being kind and non-judgmental with clients and colleagues," said Brian Colao, Director of Dykema's Dental Service Organizations Industry Group.
She regularly received recognition from Best Lawyers and Super Lawyers and served on the Board of Directors of various organizations, including the former Arbor Hospice and Crittendon Hospitals. She loved to travel and spend time with friends and family on Clark Lake and in particular, raft rides around the lake at dusk.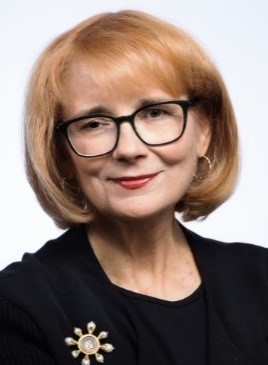 Lea F. Courington (1952-2018) – Lea Courington was a Member in Dykema's Dallas office. She was an experienced and successful health care and trial lawyer and one of the first dedicated health care attorneys in Texas. She was highly recognized in her field and focused on health care, government investigations and white collar criminal defense, antitrust and pharmaceutical matters. She defended physicians, hospitals, health care systems, other healthcare providers, and officers and directors in False Claims Act and qui tam cases. She also represented them in parallel criminal and civil governmental investigations and program integrity inquiries and audits arising from whistleblower complaints and allegations of Medicare and Medicaid fraud. A former trial attorney with the U.S. Department of Justice Antitrust Division, her experience included both civil cases and the prosecution and defense of white collar federal criminal matters. Throughout her career, she successfully defended physicians, nurses, pharmacists, and other health care providers before their respective state licensing boards and has extensive experience in medical staff peer review investigations and proceedings. She negotiated clinical trial agreements and counseled and assisted clients with disclosure obligations in reimbursement, overpayment, Anti-Kickback, and Stark Law matters, as well as structuring transactions to comply with those statutes.
Lea lived her life to its fullest—traveled widely, and gave generously—of her resources to the causes she loved, and of her time and knowledge in mentoring dozens of law students and young lawyers. Lea's legacy continues to be celebrated by friends and beloved colleagues, and by many acclaimed attorneys with whom she worked—many of whom she mentored over her years as a top-notch attorney with the highest of ethical values. "She was genuinely interested in people and their lives and never missed a chance to support and encourage others," said Chris Kratovil, Dykema's Managing Member of Dykema's Dallas office.
Lea was fiercely independent and a strong proponent of women's equality. Lea loved her country; each June 6th, she would send out a very eloquent and heartfelt email reminding her friends and family of the sacrifices made for us all by the Allied forces on the beaches of Normandy. She also loved history, architecture, music, food and wine, and pursued a loving, compassionate, and inclusive Christian faith. She was truly a renaissance woman. Lea was a tireless supporter of civic and charitable causes with Duke University as her favorite cause of all.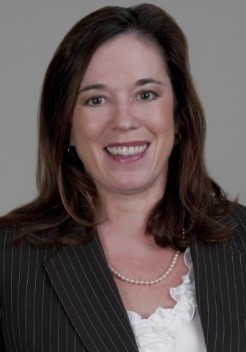 Cary Kavy (1957-2016) – Cary Kavy was a Member in Dykema's San Antonio office. She spent her entire legal career with the San Antonio law firm Cox Smith, which combined with Dykema in 2015. She headed the firm's community/regional banking practice, handling everything from bank acquisitions and sales to enforcement proceedings and regulatory compliance issues. Cary served as past president of the Texas Association of Bank Counsel and represented one of the largest publicly traded financial institutions in Texas for over 25 years, assisting them with numerous corporate, securities and regulatory matters on an ongoing basis. She also represented numerous banks and bank holding companies in stock offerings, and advised a publicly traded bank holding company in a going-private transaction. Financial reform legislation following the Great Recession created a more challenging environment for community banks, and Cary worked tirelessly to help each of her clients address it. Her dedication to her clients earned her Lawyer of the Year in Banking and Finance Law from Best Lawyers and place on their award list for many years. Cary was a brilliant, just brilliant, attorney," said Deborah Williamson, Leader of Dykema's Bankruptcy Practice and former Managing Director of Cox Smith. "She was the go-to expert in her field of community banking. Cary was a willing team member and a hard-working colleague, admired by all."
When Cary was in the seventh grade, a teacher told her mother that she would always be an average student. After her mother shared that with her, Cary never received a "B" grade again, said according to her friend and colleague Jane Bockus. Cary went on to become a straight-A student in high school, a Phi Beta Kappa at Southern Methodist University, and an honor student at the SMU Dedman School of Law. "She excelled as a lawyer, excelled as a mother, excelled as a wife, excelled as a friend. All you had to do was tell her you can't do that, and off she went." Cary was an exceptional teacher and mentor to young lawyers in the firm. Several attorneys still talk about the impact that Cary had on their careers and how much they learned from her.
Cary was an avid runner, enjoyed traveling - particularly to Spain - horseback riding and sewing. She loved life, family, children and she valued all of the Jewish prayers, ceremonies, rituals, and traditions that supported and celebrated family life. Her legacy lives on in The Kavy Youth Center at Congregation Agudas Achim, which was named after her and creates a place and an environment that gets teenagers excited to be Jewish beyond the formal learning and allows them to interact with each other in different social situations.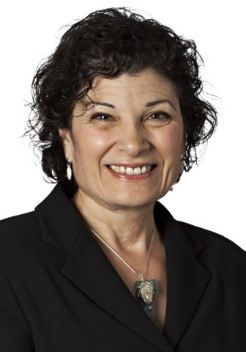 Marilyn Peters (1952-2015) – Marilyn Peters was the Managing Member of Dykema's Bloomfield Hills office. She joined the Dykema family in May 1980, immediately following her graduation from The University of Michigan Law School. She had an illustrious and successful career as a litigator, serving clients with superior legal ability and being recognized by Michigan Super Lawyers, The Best Lawyers in America and Michigan's Top 50 Women Lawyers. Marilyn also served the firm in various management capacities. In 1996, she was the first woman elected to the firm's Executive Board, serving two terms, and also served as Practice Group Leader for the Commercial Litigation Practice. Marilyn was highly respected by her peers and was both a mentor and leader.
"Marilyn did not have to work at touching the lives of others, she had the inherent ability to enjoy other people and share a bit of herself with them," said Peter Kellett, Dykema's immediate past Chairman & CEO. She possessed all of the best traits we can strive for as humans—she was moral, compassionate, passionate, smart, inquisitive, honest, adventurous, sensitive, caring and loving. She was loyal to her family, friends and colleagues and was a mentor to and advocate for so many aspiring lawyers. She was the ultimate extrovert and cared deeply about the lives of those around her. She was never afraid to speak her mind and to fight against unfairness and hypocrisy.
Marilyn was loved and admired for her warm heart, magnetic personality and relentless zest for life. She gave her time freely to others, had an infectious smile and demonstrated passion and energy toward every aspect of her life. She enjoyed vacationing with family and friends, hiking and skiing in Utah, spending weekends in South Beach and quiet time with family in northern Michigan.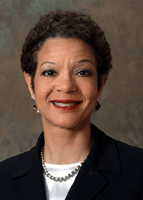 Kathleen McCree Lewis (1947-2007) – Kathleen McCree Lewis was an appellate litigation specialist in Dykema's Detroit office, a former president of the American Academy of Appellate Lawyers and a past co-chairperson of the American Bar Association Section of Litigation Appellate Practice Committee. In 1997, she was one of named one of Crain's Detroit Business's Most Influential Women.
Appellate advocacy and civic responsibility ran deep in Kathleen's veins, as she grew up watching her father blaze a trail for African American lawyers by becoming the first minority elected to the Wayne County Circuit Court, serving on the 6th U.S. Circuit Court of Appeals and as Solicitor General under President Jimmy Carter. As the firm's appellate litigation specialist, her career included victories in Michigan's appellate courts, as well as the 6th Circuit, a bench that she was herself twice nominated to sit on by President Bill Clinton. Never one to shy away from a challenge, she also spent three years as chairperson of the 6th Circuit's Rules Advisory Committee. Under her careful guidance, her committee worked with the court to revise the 6th Circuit's local rules from something rather "quaint," to their modern incarnation.
Quoted in Michigan Lawyers Weekly, Kathleen stated, "Both of my parents were very active in the community and civics as I was going up, and from that, I think I perceived that responsible grownups serve their communities in a voluntary capacity," she explained. "It never occurred to me not to serve." And serve she did.
Though Kathleen was well known for her victories inside the courtroom, 2006 marked a year in which she left an impression on the legal community for her victories outside of it. As the president of the American Academy of Appellate Lawyers—an elite invitation-only organization dedicated to improving the appellate process throughout the country—she literally and figuratively continued the work begun by her father. Not only did she use her term to further appellate advocacy within the ranks of the academy through the implementation of a new long-range plan and the organization of educational programs, but she also served the American appellate community at large by sitting on the steering committee of the National Conference on Appellate Justice—a position her father held at the first conference 30 years prior.