Welcome, Alumni!
Dykema Alumni Newsletter | Summer 2021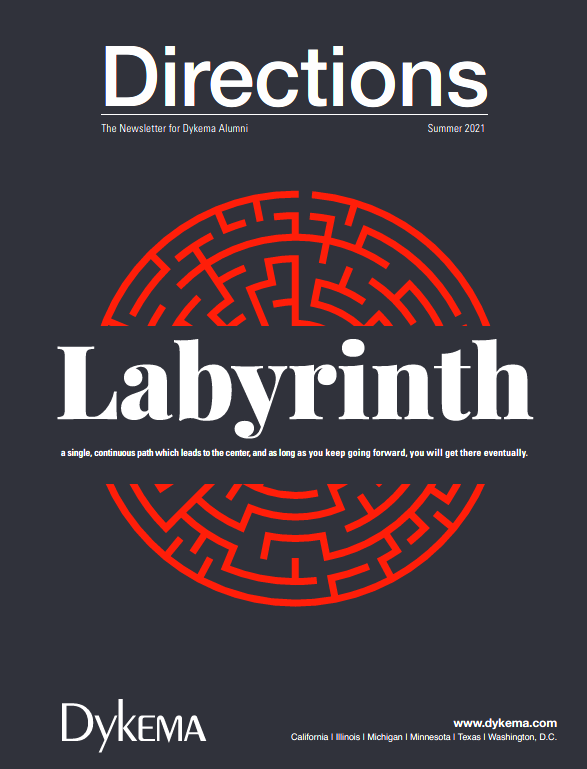 Although the previous year presented a series of obstacles and, at times, felt as though we were trapped in a never-ending maze, we all have continued putting one foot in front of the other in our respective industries and communities with one goal in mind: moving forward. Despite the inability to see the end of the road through the fog of uncertainty during a worldwide pandemic, we have resiliently forged on.
This edition of Directions reflects on the various ways Dykema alumni and attorneys have traversed the Labyrinth of the pandemic. Some of the newsletter highlights include:
A Q&A with Dykema's new Chairman & Chief Executive Officer, Len Wolfe
Spotlights of Dykema alumni who have left an impression during the pandemic:

Vivian Kim, EVP, General Counsel & Corporate Secretary, Chief People Officer at Hanmi Bank
Shaun Johnson, Senior Vice President and Corporate Counsel at CMS Energy

Dykema Alumnae Showcase: Trailblazing Women
Making Peace with Conflict, authored by Alumna Jeanine Hull
Dykema Alumni leading in the community
We invite your feedback and ideas for future publications, and encourage you to contact us with any news you have to share or to be featured in an alumni profile.
Click here to read our latest edition of Directions.
Stay Connected
At Dykema, we value our alumni and want to stay in touch.
Please consider joining Dykema's LinkedIn Alumni Network, which provides former and current Dykema attorneys a place to establish connections, exchange information, and learn about alumni news.
Check out the latest edition of Dykema's alumni newsletter, Directions. To subscribe to the alumni e-newsletter, or to request a print copy of the latest issue, please email alumni@dykema.com.
Contact Us
If you would like to be added to our alumni mailing list to receive news and event information, please send your updated contact information to alumni@dykema.com.
We welcome comments and questions, and look forward to receiving your feedback.