2020 Mergers & Acquisitions Outlook Survey
The results of Dykema's Annual Mergers & Acquisitions Outlook Survey are in! This annual survey tracks the marketplace to gauge the direction of the M&A market and economy for the coming year.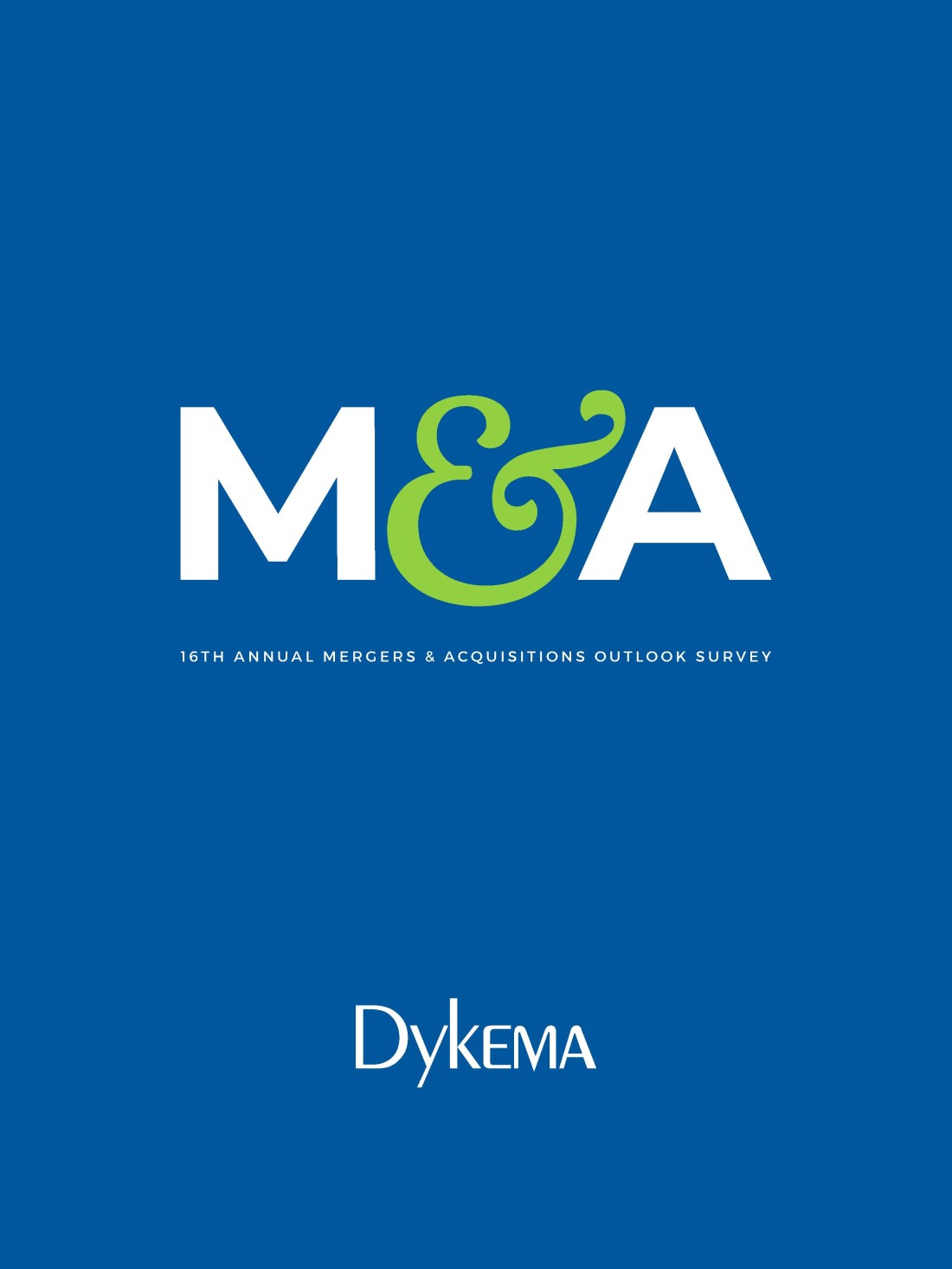 As with previous installments of the survey, Dykema canvassed leading company executives and outside advisors in the M&A space to ask them to share their observations and insights into how the U.S. economy and domestic and global matters will impact the M&A market. In the midst of the COVID-19 pandemic and just a year after tempering expectations for deal-making, respondents to Dykema's 16th Annual M&A Outlook Survey are the most optimistic they have been in the 16-year history of the survey.
"Despite COVID-19 and current economic uncertainties, deal-makers see increasing opportunities for completing deals in the next 12 months," said Thomas Vaughn, co-leader of Dykema's Mergers & Acquisitions practice. "The pandemic will continue to influence the deal market over the coming year, but there is a surprising level of optimism among deal-makers that its impact on M&A will wane over time. With 72% of deal-makers expecting to close a deal in the next year, whether you're a strategic or financial-focused buyer or a seller hoping to cash out, there are opportunities in the M&A market for the right deal."
"It is no surprise that a Donald Trump reelection and Republican-controlled Congress would be viewed positively by deal-makers from an M&A perspective," said Jeff Gifford, leader of Dykema's Corporate Finance Practice Group. "The past four years under the Trump administration have been largely positive for M&A activity, and this year's survey results signal deal-makers' hope for a continuation of the deal-friendly business environment and policies – principally tax policies – to which they've become accustomed."
Learn more about marketplace expectations that may determine the direction of M&A for the next 12 months by clicking
here or contacting a member of our Mergers & Acquisitions practice.