Five FCPA Hot Topics Middle Market Companies (and Other Businesses) Need to Know About
Dykema Litigation Institute Webinars
12.14.21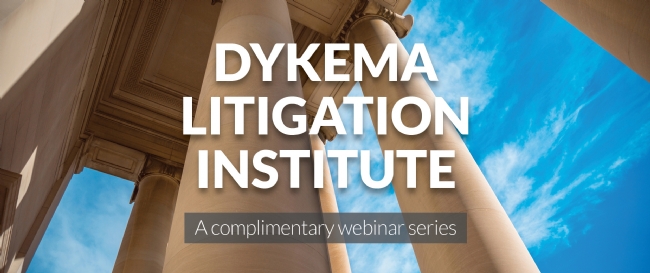 The U.S. Department of Justice announced more aggressive enforcement priorities in two recent speeches designed to reinvigorate corporate investigations. This renewed and reenergized approach is and will be reflected in FCPA investigations.
To address the DOJ priority, the panel will provide real-world experience and insights, focusing attention on FCPA issues and compliance strategies for middle-market companies, including a new emphasis on the use of data analytics to identify companies and industries for investigation. The program will also cover strategies for self-disclosures, and trends in resolutions of FCPA investigations.
Our speakers will also discuss ways to manage key risk areas for FCPA compliance, including use of third-party agents, and gifts and hospitality expenses.
Tuesday, December 14, 2021
1:00 p.m. – 2:00 p.m. EDT
Speaker: Jonathan Feld, Member, Dykema; Jason Ross, Member, Dykema; Jim Portnoy, VP of Global Compliance, SharkNinja
CLE accreditation is anticipated for California, Illinois and Texas. We provide Uniform Certificates of Attendance and jurisdiction-specific information for those licensed in other jurisdictions. Please contact Kelsey Rustigian at krustigian@dykema.com with questions.