From Clicks to Courtrooms: Unraveling Emerging Litigation in Adtech, Pixels, Cookies, Website Tracking, BIPA and Data Breaches
Dykema Litigation Institute Webinars
8.16.23 — 8.16.23 1:00 PM — 2:00 PM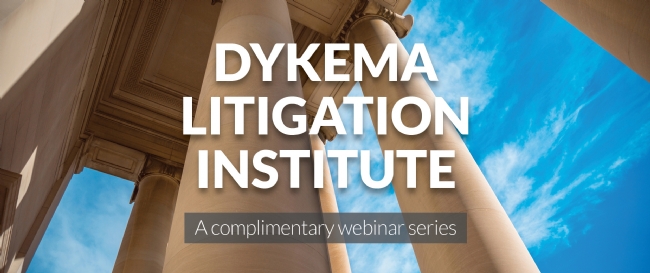 Our panel will discuss the evolving legal challenges and compliance issues associated with common data collection practices through technologies such as digital adtech and website tracking that bring legal risks in data privacy. We also will review recent updates in data breach litigation and the Illinois Biometric Information Privacy Act (BIPA), assessing implications for companies and providing best practices to mitigate risk.
Wednesday, August 16, 2023
1:00 p.m. – 2:00 p.m. ET
Speakers: Sean Buckley, Dallas; Melanie Chico, Chicago; Cindy Motley, Chicago
CLE accreditation is anticipated for California, Illinois and Texas. We provide Uniform Certificates of Attendance and jurisdiction-specific information for those licensed in other jurisdictions. Please contact Sarah Minjoe at sminjoe@dykema.com with questions.