Practice Areas
Dykema Powers the Tuskegee Airmen GM River Days Airshow Again in 2017
June 27, 2017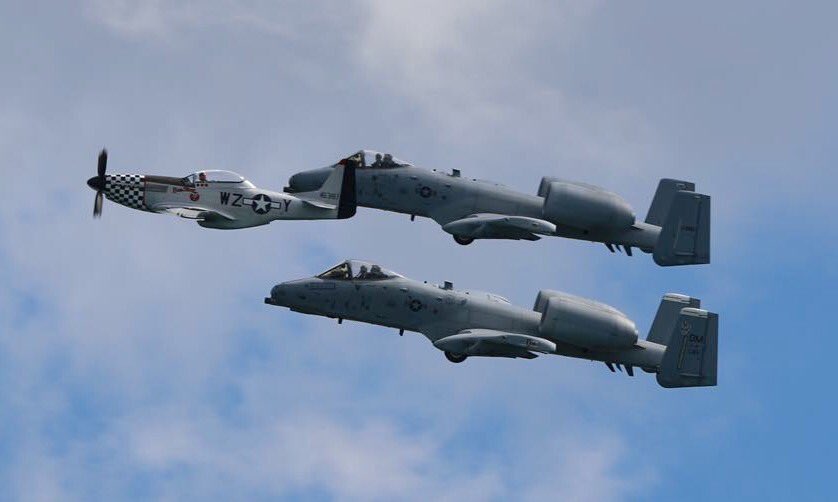 On most days, flying upside-down at low level over the Detroit River would run afoul of more than a dozen Federal Aviation Regulations. That stretch of the river has skyscrapers on one side and an international border on the other side, and is a major shipping lane for domestic and international cargo. But, with an FAA waiver and all of the coordination that goes along with it, flying upside down over the river is a great way to celebrate Detroit.
From June 23-25, the Tuskegee Airmen National Historical Museum conducted its fourth year of airshow performances over the Detroit River in connection with the GM River Days festival. The 135,000 people in attendance saw aerobatic performances, World War II aircraft, formation demonstrations, and even a U.S. Air Force Heritage Flight consisting of a rare TF-51D Mustang flying in formation with two A-10 Thunderbolt II attack aircraft.
Unlike other airshows in the region, the Tuskegee Airmen show consists overwhelmingly of local performers; 80 percent of the performing aircrew either live in southeast Michigan or have a family or school connection to the area.
Detroit is the home of the Tuskegee Airmen National Historical Museum, which honors the United States' first African American military pilots. The Tuskegee Airmen formed the 332nd Fighter Group and the 477th Bombardment Group of the United States Army Air Forces during World War II. Several original Tuskegee Airmen, including Colonel Harry Stewart and Lieutenant Colonel Alex Jefferson, were on hand for the airshow performances. The museum operates a museum in historic Fort Wayne on Detroit's south side and five aircraft at Detroit City Airport.
Dykema coordinated the FAA waiver for the show. The waiver covered 15 provisions of the Federal Aviation Regulations and contained more than 30 special provisions. Additionally, the firm coordinated with the Federal Aviation Administration, the U.S. Air Force, the U.S. Coast Guard, Detroit Police, Wayne County Sheriff, Windsor Police, the Windsor Harbourmaster, the Michigan Department of Natural Resources, Transport Canada, Nav Canada, and others to make the airshow happen.
Steve Tupper, of the firm's Bloomfield Hills office, led the Dykema effort by securing the FAA waiver and coordinating much of the operational activity. Steve leads the aviation transactions practice for the firm, assisting with purchases, sales, leases, and operational matters for clients who depend on aviation for their businesses. In addition to being a commercial pilot and flight instructor, he is a lieutenant colonel in the Civil Air Patrol (the U.S. Air Force auxiliary), which he serves as judge advocate for CAP's Michigan Wing and as an instructor pilot and check airman.
The number of law firms that can effectively help clients to buy, sell, or lease aircraft, or litigate aviation disputes, is already small. If you add operational experience and skills like those required to hold a safe, exciting, and compliant airshow, Dykema is practically unique in the nation.