Attorneys
Industries
Dykema Sponsors World Mobility Leadership Forum
September 23, 2016
Dykema served as the only law firm sponsor for the World Mobility Leadership Forum, an exclusive, invitation-only discussion on how modern mobility solutions can solve challenges around the globe. The forum, which took place at The Westin, in the Detroit Metropolitan Airport on September 28-29, 2016, featured prominent speakers from throughout the transportation industry, including:
Bill Ford, Executive Chairman of Ford Motor Company;
Mary Barra, Chairman and CEO of General Motors Company;
Jim Goodnight, Co-Founder and Chief Executive Office of SAS; and
Blair Anderson, Under Secretary for Policy of the U.S. Department of Transportation.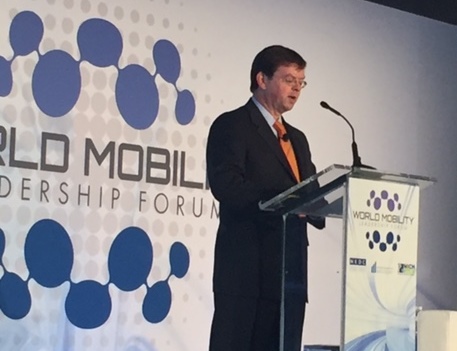 Dykema sponsored and introduced the panel "Improving Quality of Life through Mobility Solutions," which was held at 9:30 a.m. next Thursday, September 29. The panel, which was introduced by Brendan Cahill, Director of Dykema's Automotive Industry Group (pictured right), discussed how mobility solutions are making lives better by making services and products accessible and convenient to people across the globe, and how to overcome barriers to moving these solutions into the marketplace. Featured panelists were:
Peter Sweatman, Principal, CAVita;
Andrea Coleman, Co-Founder, Riders for Health, UK;
Sohier Hall, Co-Founder, President & CEO, Luum; and
Moderator: Chris Thomas, Founder & Partner, Fontinalis.
For more information about the World Mobility Leadership Forum, click here.
To learn more about Dykema's nationally recognized Autonomous and Connected Vehicle Team, click here.