In Memoriam: Cox Smith Co-founder Burley Smith (1917-2015)
May 11, 2015
Cox Smith co-founder J. Burleson "Burley" Smith has passed away at 98. Smith began his legal career in 1946 with Seeligson, Cox & Patterson, an oil and gas law firm based in San Antonio and the predecessor to today's Dykema Cox Smith. He was a trusted counselor to many and an active and highly respected practitioner in oil and gas law, estate planning, antitrust and litigation. He enjoyed working with a diverse array of clients and serving as a mentor to younger lawyers. A leader of the firm at a young age, he was the firm's longest serving managing partner and the architect of its practice expansion in the 1960s and 1970s. He was instrumental in building what became the largest business and business litigation law firm based in South Texas.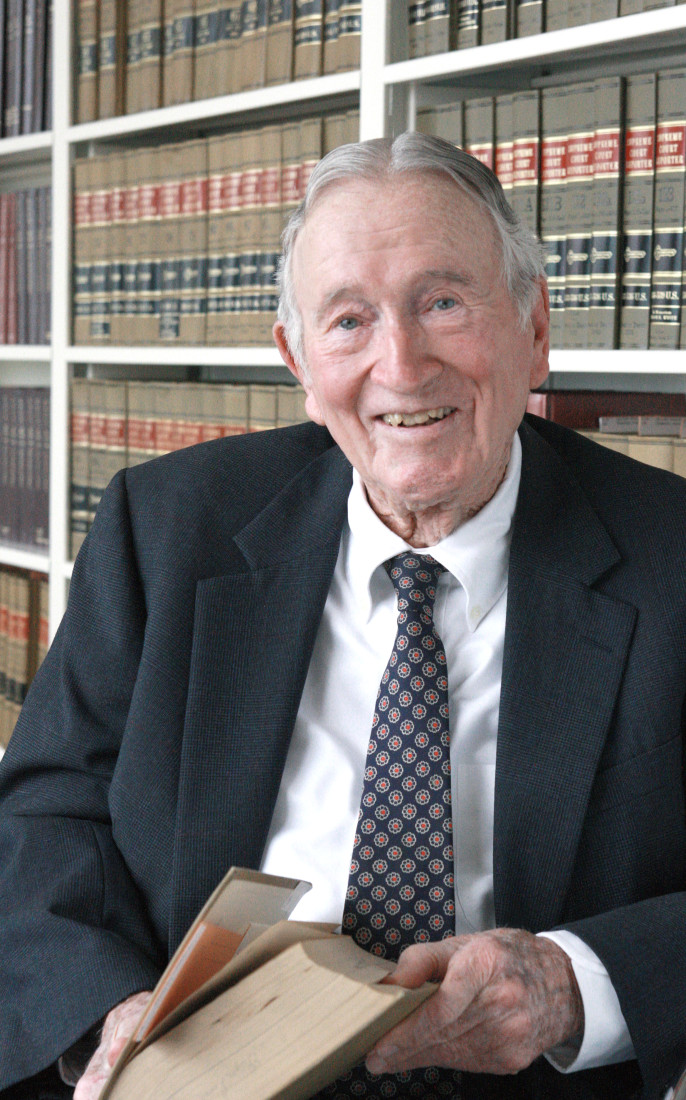 A graduate of the University of Texas at Austin (undergraduate and law school), Smith joined the FBI as a Special Agent, stationed in New York and Florida, after graduating from law school. In 1943, he resigned from the FBI to accept a commission as a second lieutenant in the U.S. Navy. He spent most of World War II as Night Fighter Director on aircraft carriers, principally on the USS Ticonderoga.
After the war, he returned to San Antonio to practice law and joined the San Antonio law firm then known as Seeligson, Cox & Patterson. For the next 60 years, Burley was instrumental in leading the firm and its lawyers through growth and expansion as Cox, Smith & Patterson; Cox, Smith, Smith, Hale and Guenther; Cox & Smith Incorporated; and Cox Smith Matthews Incorporated.
In addition to his active legal career, Smith dedicated time to the State Bar of Texas by serving as chairman of its Mineral Law Section, chairman of its Antitrust Litigation Section and as a member of its Grievance Committee. A Fellow of the Texas Bar Foundation and Trustee Emeritus of the Southwestern Legal Foundation, he was a recipient of numerous bar and civic awards, including recognition as an Outstanding 50 Year Lawyer by the State Bar of Texas and the Joe Frazier Brown Award of Excellence presented by the San Antonio Bar Association. In 2011, he was presented with the Distinguished Counselor Award by the State Bar of Texas' Antitrust and Business Litigation Section.
Smith was also active in numerous civic activities, including service as a Trustee and Corporate Secretary of the Texas Biomedical Research Institute, member of the Board of Trustees of the University of Texas Law School Foundation, member of the University of Texas Centennial Commission and Chancellor's Council, Trustee of the Minnie Stevens Piper Foundation, and member and president of the Alamo Heights Independent School District Board.
"Burley's contributions to this firm are many, and his legacy will be remembered for generations. Many of the policies he created and fostered when he began his career are still alive and well at the firm today," said Dan Webster, Dykema Cox Smith member and former managing director. "Burley believed in keeping doors open to encourage communication and cordial relationships, which still exists today. He so deeply loved this firm and believed in the work we do for our clients that he continued coming in to the office every day well into his 90s. He set a very high standard, and everyone at Dykema Cox Smith mourns the loss of this fine gentleman."
Smith is survived by his wife, children (including James B. "Jamie" Smith, Jr., Vice Chairman – Texas of Dykema Cox Smith) and grandchildren.