Attorneys
Practice Areas
Industries
Legal 500 U.S. 2021 Ranks Dykema Among Nation's Best in Four Categories
15 Attorneys Receive Individual Recognition; Including Three National Honors
June 9, 2021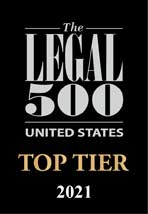 Dykema, a leading national law firm, announced today that the firm's Automotive Product Liability Litigation, Automotive Litigation, Gaming & Indian Law, and Cannabis Law practices are ranked by the Legal 500 United States 2021 (The Legal 500). Furthermore, three of Dykema's four recognized practices are ranked as at least one of the top six firms in the nation in their respective categories.
In addition to the practice rankings, 15 Dykema attorneys received individual recognition, including both Derek Whitefield and Dommond Lonnie, who were each named one of only six "Leading Lawyers" in respective Automotive categories, and John Black, who was named as one of only four "Rising Stars" in Automotive Litigation and Regulation.
For more than 30 years, The Legal 500 has analyzed the capabilities of law firms across the world, with a comprehensive research program revised and updated on an annual basis. According to their website, The Legal 500 assesses the strengths of law firms in more than 100 jurisdictions. Rankings highlight the practice area teams who are providing the most cutting edge and innovative advice to corporate counsel. Their research is based on feedback from 300,000 clients worldwide, submissions from law firms and interviews with leading private practice lawyers, and a team of researchers.
As identified by The Legal 500 categories, the following Dykema attorneys and practices were recognized:
Product Liability, Mass Tort and Class Action – Defense: Automotive/Transport
Leading Lawyer
Tier 1 – Top 4 Firms Nationwide
With a long history of representing the automotive industry, Dykema Gossett PLLC acts not only for a wide array of car manufacturers, but also for a long list of suppliers in high-stakes matters. The team's expertise ranges from personal injury and wrongful death claims to class actions and multi-district litigations across the country. Jill Wheaton in Ann Arbor, who is involved in high-profile appellate work, commercial litigation and products liability defence, heads the practice. Fred Fresard in Bloomfield Hills is a key lawyer in the area of automotive crashworthiness litigation, safety technology and safety regulation. Another name of note in this practice area is Derek Whitefield in Los Angeles, who according to clients "always keeps the big picture in mind."
Testimonials
"The team is always available when I need them and their advice is sound and prompt."
"Derek Whitefield is one of the most conscientious lawyers I have ever worked with. He is thoughtful in his advice, listens carefully, and never runs up fees with needless disputes. He tries cooperation first, but then fights the battles as needed. He always keeps the big picture in mind."
Practice Head
Other Key Lawyers
James Feeney
Michael Cooney
Fred Fresard
Derek Whitefield
Transport: Rail and Road – Litigation and Regulation
Leading Lawyer
Rising Star
Tier 2 – Top 5 Firms Nationwide
Consistently taking bet-the-company lawsuits to verdict, Dykema Gossett PLLC is active equally for automotive original equipment manufacturers and automotive industry suppliers. In Los Angeles, experienced trial attorney Dommond Lonnie leads the automotive industry group; while Derek Whitefield recently represented American Honda Motor Co in airbag technology-related litigation. Also highly rated are Michael Carey in Minneapolis, who co-leads the mobility and advanced transportation practice; and Detroit-based litigation department director Michael Cooney, who is highly regarded for automotive crashworthiness litigation. In Bloomfield Hills, James Feeney's experience includes high-stakes, automotive industry-related trials; Fred Fresard is recommended for high-exposure cases; and Brian Smith is experienced in automotive product liability cases involving catastrophic injury and death. Detroit-based Boyd White III was elected member in January 2020, and John Black is an experienced associate in Bloomfield Hills.
Practice Head
Other Key Lawyers
Derek Whitefield
Michael Carey
Michael Cooney
James Feeney
Fred Fresard
Brian Smith
Boyd White III
John Black
Krista Lenart
Native American Law
Tier 1 – Top 6 Firms Nationwide
Dykema Gossett PLLC's Michigan-based Native American practice has strength in the casino gaming industry and the establishment of casinos on Indian lands and around Detroit. Managed by Lance Boldrey, who has experience in transactional work related to tribal-state gaming matters, the group represents tribes, banks, investors, and businesses on financing agreements and matters involving the National Indian Gaming Commission. Transactional lawyer Jason Hanselman is a core member of the team and specializes in commercial and tribal gaming projects across Michigan, Wisconsin, Indiana, New York, California, and Hawaii. He is experienced in acting for tribes in financing agreements. The firm also has experience in tribal governmental representation where it is regularly involved in the drafting of constitutional ordinances for groups.
Practice Head
Other Key Lawyers
Cannabis
Tier 4 – Top 14 Firms Nationwide
Dykema Gossett PLLC is a full-service firm that advises across the spectrum of legal and policy matters affecting the cannabis industry; however, the practice group is recognized in particular for its counsel to the proponents of the initiative that became the Michigan Medical Marihuana Act. The team draws its clients from across the nation, and is especially active in Michigan, Illinois, Colorado, California, Florida, Washington DC, Ohio and Oklahoma. Practice head Lance Boldrey in Lansing specializes in licensing, regulatory matters and legislative issues.
Practice Head
Other Key Lawyers