Attorneys
Practice Areas
Industries
Legal 500 United States 2020 Ranks Dykema Among Nation's Best in Two Categories and Recognizes Six Attorneys
June 10, 2020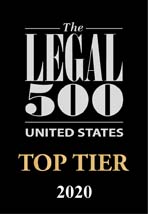 Dykema, a leading national law firm, announced today that the firm's Automotive Product Liability Litigation and Automotive Litigation practices have been ranked by the Legal 500 United States 2020 (The Legal 500). In addition to the practice rankings, 6 Dykema attorneys received individual recognition, including Terri Reiskin and Derek Whitefield being named "Leading Lawyers."
Dykema was recognized as one of the top four firms in the nation (Tier 1) for "Product Liability, Mass Tort and Class Action – Defense: Automotive/Transport" and one of the top six firms in the nation (Tier 2) for "Transport: Rail and Road – Litigation and Regulation."
For more than 30 years, The Legal 500 has analyzed the capabilities of law firms across the world, with a comprehensive research program revised and updated on an annual basis. According to their website, The Legal 500 assesses the strengths of law firms in more than 100 jurisdictions. Rankings highlight the practice area teams who are providing the most cutting edge and innovative advice to corporate counsel. Their research is based on feedback from 300,000 clients worldwide, submissions from law firms and interviews with leading private practice lawyers, and a team of researchers.
The Legal 500 recognized the following Dykema attorneys and practices, as identified by Legal 500 category:
Product Liability, Mass Tort and Class Action – Defense: Automotive/Transport
Leading Lawyers
Terri Reiskin
Derek Whitefield
Tier 1 – Top 4 Firms Nationwide
Dykema Gossett PLLC acts for OEMs and automotive industry suppliers in automotive product liability and recall litigation across the country. In addition to this core expertise, the practice group also has experience of personal injury and wrongful death cases, and property damage claims. Key litigators in the team include practice head Terri Reiskin in Washington, D.C.; Los Angeles-based Derek Whitefield, who is leading class actions for a number of the firm's largest clients, including FCA US; and Michael Cooney in Detroit, who is acting a several wrongful death and catastrophic injury claims. The team was also strengthened by a number of arrivals in 2018-2019, including that of Michael Carey, who joined in Minneapolis from Bowman and Brooke LLP.
Testimonials
"Dykema has a deep bench in various aspects of the automotive industry, including product liability, class actions and supplier relations"
"Terri Reiskin is an extremely talented class action lawyer"
"Derek Whitefield is an excellent trial lawyer and product liability lawyer'
Transport: Rail and Road – Litigation and Regulation
Tier 2 – Top 6 Firms Nationwide
Best known for its strong reputation and depth of experience in the automotive industry, Dykema Gossett PLLC is among the go-to advisors for automotive OEMs and automotive industry suppliers in a variety of bet-the-company lawsuits, including class actions, product liability and toxic torts, and appeals. Los Angeles-based Dommond Lonnie heads the automotive group and stands out for his experience litigation cases relating to crashworthiness, tires and suspension, airbags, brakes and fuel systems, among other auto-part cases and liability lawsuits. Another contact in L.A. is Derek Whitefield, who specializes in product liability defense work, particularly regarding automotive crash safety. Contacts outside of Los Angeles include Michael Carey in Minneapolis and Brian Smith in Bloomfield Hills.
Testimonials
"Dykema is dedicated to its automotive practice. It is a core competency and not just a 'check box' among other disciplines. This expertise to the unique industry has been extremely valuable across our Company's footprint."