Address
201 Townsend Street
Suite 900
Lansing, MI 48933
T: 517-374-9100

F: 517-374-9191

Office Contact
Office Managing Member

517-374-9181
Other Offices
Established in 1973, Dykema's Lansing office is adjacent to Michigan's Capitol Building. Our state government policy practice is centered here and our Lansing lawyers coordinate the Firm's federal government policy practice as well. We are skilled in a broad range of matters including utility and insurance regulation, professional licensure, liquor licensing matters, elections and public policy representation, municipal bond issues and lobbying activities. Lawyers throughout the firm regularly call on our Lansing office to represent our clients before government and regulatory bodies in the state.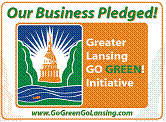 Our office location participates in the Greater Lansing Go Green! Initiative. The program is designed to promote and encourage environmentally conscious business practices in the Lansing area.
Dykema strives to maintain a workplace that is free from recognized hazards and to promote the health and well-being of our employees, their families, and those who visit our offices. As part of this effort, Dykema has implemented certain safety protocols utilizing CDC, OSHA and other available guidance. Accordingly, Dykema requires that visitors be fully vaccinated against COVID-19 to enter Dykema offices.
COVID-19 Visitor Attestation Form
text
Professionals In This Office