DSO Deal Volume Remains Strong in Spite of Pandemic
August 14, 2020
Not surprisingly, Dykema's volume of closed deals for the first half of the year slowed from last year's record pace. What was somewhat surprising is that the volume of transactions in the Dental Services Organization (DSO) space did not seem to miss a beat. All told, we closed 18 DSO deals, including four in the adjacent Medical Services Organization (MSO) space (in this case, all Optometry), slightly ahead of last year's pace. In addition, we closed deals in the hospitality, cell tower and litigation services sector. Overall, the transactions trended smaller, averaging $16M, down from 2019's average of $117M.
Given all the chaos and suffering in the world right now, we feel fortunate and blessed to stay as busy and productive as we have.
We hope you and your families are staying healthy and safe during these challenging times.
Below are tombstones from some of our deals.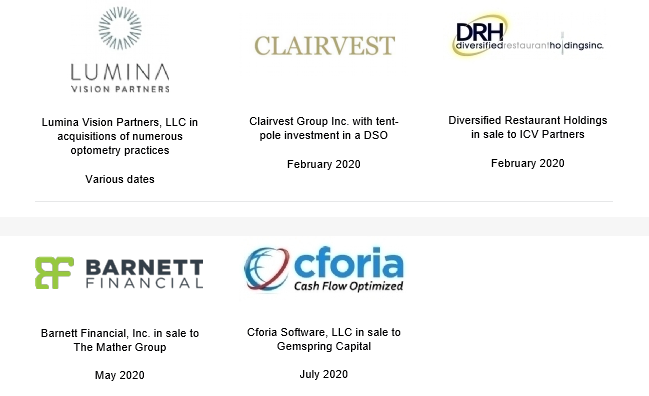 As part of our service to you, we regularly compile short reports on new and interesting developments and the issues the developments raise. Please recognize that these reports do not constitute legal advice and that we do not attempt to cover all such developments. Rules of certain state supreme courts may consider this advertising and require us to advise you of such designation. Your comments are always welcome. © 2021 Dykema Gossett PLLC.