Dykema's M&A Deal Volume Comes Roaring Back in the Third Quarter
November 6, 2020
Dykema's M&A transaction volume was up sharply in the third quarter with 25 deals closing during that three-month period. The transactions involved a wide variety of industries including Dental Service Organizations (DSOs) and Medical Service Organizations (MSOs), alcoholic beverages, precious metals, automotive, waste management, health & fitness and cloud services.
Average deal size remained steady at just under $17,000,000, up slightly from last quarter's $15,848,000.
Interestingly, we saw more cross-border deals than we normally do, with four of our transactions involving foreign buyers or sellers.
Our clients were divided fairly evenly between buyers and sellers as we represented 11 sellers and 14 buyers.
During the third quarter, we completed our 16th annual M&A Survey. Below are some of the findings from this year's survey:
Respondents were divided on what would be the single greatest driver of U.S. M&A activity over the next 12 months, with U.S. economic conditions (22 percent), favorable interest rates (22 percent) and availability of capital (20 percent) all vying for the top spot.
Strategic U.S. buyers saw a resurgence in this year's survey, ranking atop our list of most influential buyers for the first time since 2017, likely a reflection of our unique economic conditions. Financial U.S. buyers followed closely behind and remain flush with deployable capital.
Respondents embraced government programs to help businesses survive COVID-19 restrictions and their fallout. The Paycheck Protection Program (PPP) proved most popular; 73 percent of respondents say they accepted those loans. Just 8 percent of respondents who worked on deals involving PPP reported failing to close the deal due to the loan – a sign deal-makers were able to navigate potential hurdles involving the outstanding loans.
Respondents predict the following sectors will see the most M&A activity in the next 12 months: 1) Automotive; 2) Health Care; 3) Technology; 4) Consumer Products; 5) Financial Services. Notably, education jumped to number six in this year's survey, up nine spots from 2019. Energy dropped from third in 2019 to eighth.
Europe ranked as the top destination for both inbound and outbound U.S. M&A activity. Central/South America and China ranked second and third for inbound activity, with those two options flipped for outbound.
If you would like a complete copy of this year's survey, feel free to reach out to your contacts at Dykema.
Below are tombstones from some of our third quarter deals.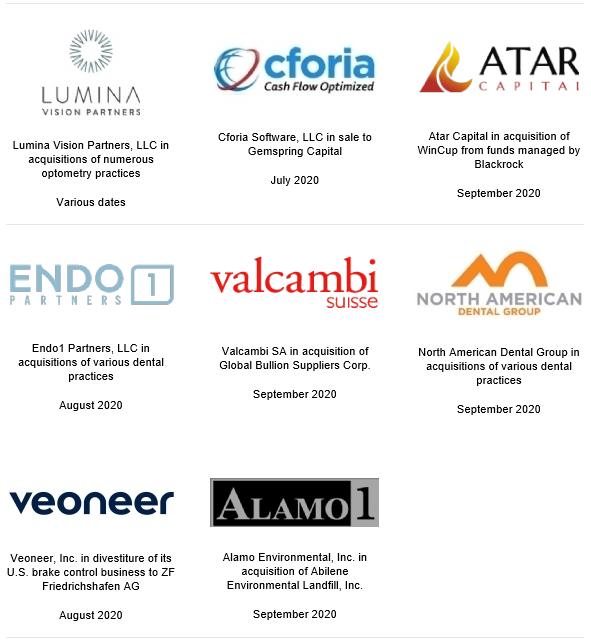 As part of our service to you, we regularly compile short reports on new and interesting developments and the issues the developments raise. Please recognize that these reports do not constitute legal advice and that we do not attempt to cover all such developments. Rules of certain state supreme courts may consider this advertising and require us to advise you of such designation. Your comments are always welcome. © 2021 Dykema Gossett PLLC.