Dykema's M&A Deal Momentum Continues in 2021
April 28, 2021
Although dropping off from the record deal volume we had during the fourth quarter of 2020, this year has gotten off to a strong start. All told, we closed 17 transactions, including seven in the DSO space alone. The other 10 transactions included deals in the lighting, childcare centers, food and beverage, funeral services, entertainment, automotive, printing and graphics and accounting services industry segments. The average deal size for the first quarter of 2021 was nearly $29 million. Given the number of in-process deals currently in our pipeline, we expect our deal volume to remain high through the second quarter.
We recently completed the Spring 2021 M&A Outlook Flash Survey. Please click here to review the survey results. We will be interested to learn how our experience and outlook compare to yours.
Below are tombstones from some of our Q-1 deals.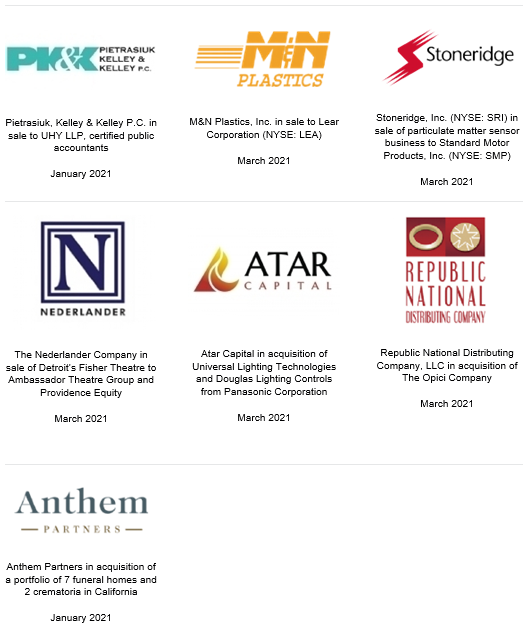 As part of our service to you, we regularly compile short reports on new and interesting developments and the issues the developments raise. Please recognize that these reports do not constitute legal advice and that we do not attempt to cover all such developments. Rules of certain state supreme courts may consider this advertising and require us to advise you of such designation. Your comments are always welcome. © 2021 Dykema Gossett PLLC.