A Brisk Second Quarter: Dykema Deal Activity Remains Strong While Deal Size Grows Even Larger
August 1, 2019
The second quarter continued the brisk M&A activity for our clients. During the second quarter, we closed 18 transactions. Although this number of closed deals represents a drop-off from the first quarter during which we closed 21 deals, it represents a more than 45 percent increase over the second quarter of 2018. The real headline item for this quarter, however, was deal size. Average deal size increased by 46 percent to $35M when compared to the first quarter.
The increased deal size was due to transactions of more than $100M in the financial services, insurance and outdoor entertainment industries. Our Dental Service Organization (DSO) practice continued to be our most active industry segment, with seven closed transactions. Other industries included cannabis, pharmaceuticals, waste management and aerospace and defense.
Also, we continue to see more deals involving representation and warranty insurance. This quarter, we had five transactions that included it. We expect this trend to continue.
During the third quarter, we will send our annual M&A Outlook Survey and look forward to receiving your observations and thoughts for 2019 and your predictions for 2020.
We look forward to working with you on a deal this year.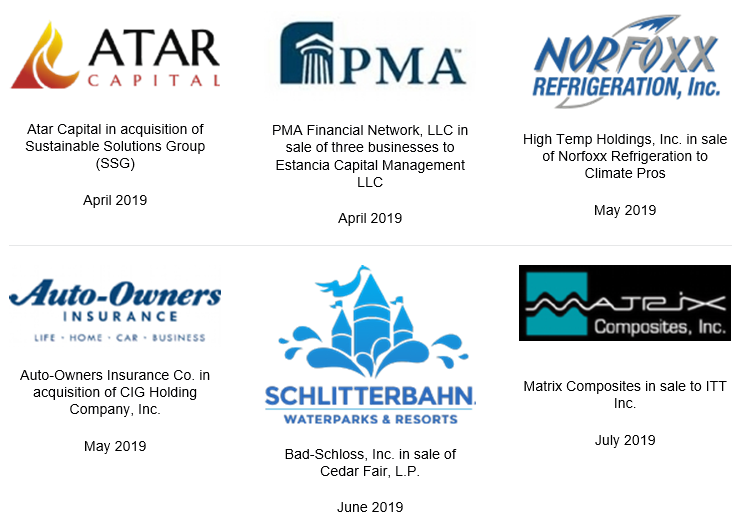 As part of our service to you, we regularly compile short reports on new and interesting developments and the issues the developments raise. Please recognize that these reports do not constitute legal advice and that we do not attempt to cover all such developments. Rules of certain state supreme courts may consider this advertising and require us to advise you of such designation. Your comments are always welcome. © 2021 Dykema Gossett PLLC.