Dykema Completes Banner Year For M&A Transaction Volume
January 31, 2020
Dykema closed 15 deals during the fourth quarter, finishing 2019 with a total of 70 closed deals—a firm record and a 39 percent increase from 2018.
Our average transaction size for the quarter was $25,970,000, down from the annual average of $34,475,000, but still a healthy amount given our middle-market focus.
During the third quarter, we noted that we had represented sellers in 14 of the 18 deals that closed and were curious to see if that trend would continue. It did not, as we saw a more balanced representation of buyers and sellers (seven sellers and eight buyers).
The 15 deals closed during the fourth quarter involved pharmaceuticals, oil and gas, financial services, technology and dental service organizations.
Our attention now turns to what to expect in 2020. Will the boom continue or are we due for a slow-down? Respondents to our 15th Annual M&A Survey were much less optimistic about the upcoming year, citing concerns about a potential economic downturn, ongoing trade tensions with China and the overall political uncertainty in the U.S., including the unknown outcome of the upcoming presidential election. We will be watching these issues as we ease into 2020.
We look forward to working with you on a transaction this year!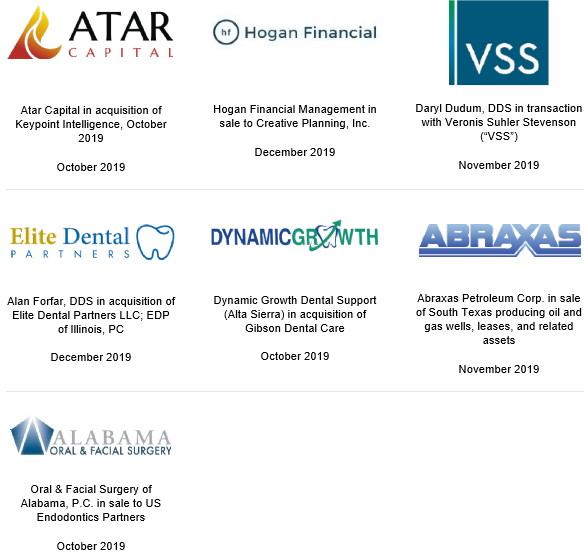 As part of our service to you, we regularly compile short reports on new and interesting developments and the issues the developments raise. Please recognize that these reports do not constitute legal advice and that we do not attempt to cover all such developments. Rules of certain state supreme courts may consider this advertising and require us to advise you of such designation. Your comments are always welcome. © 2021 Dykema Gossett PLLC.