Dykema M&A Activity Continues to Sizzle
October 31, 2019
The third quarter continued the torrid pace of M&A volume for our clients—we closed a total of 18 transactions, a substantial increase over the third quarter of last year. The average deal size increased as well from $29M to $62M. The industries covered included alcoholic beverages, amusement parks, automotive, pharmaceuticals, apparel, aerospace and defense, information management, car rental and dental service organizations. Our largest driver of deal volume was the dental service organization sector, in which we closed eight transactions alone.
This quarter was somewhat unusual in that we represented sellers in 14 of the 18 transactions. Driving that trend was once again the dental service organization space, where we represented sellers in seven of the eight closed transactions.
The heavy volume of selling by our clients makes us wonder if the market is beginning to near the end of the buoyant seller's market that has been in place for several years. Dykema recently completed its 15th Annual M&A Outlook Survey, which may shed some light on that phenomenon. We will be sharing the insight from this year's survey in November.
Some of the transactions from our very busy quarter are below. Good luck to you all in your sprint to the finish line!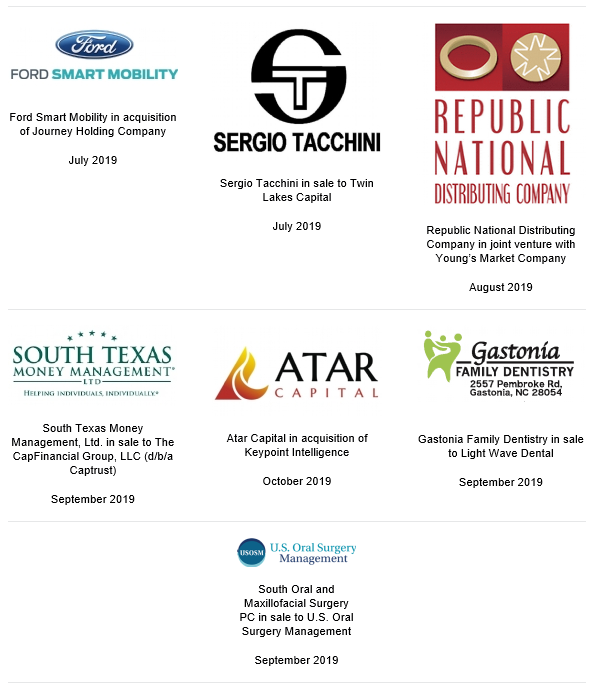 As part of our service to you, we regularly compile short reports on new and interesting developments and the issues the developments raise. Please recognize that these reports do not constitute legal advice and that we do not attempt to cover all such developments. Rules of certain state supreme courts may consider this advertising and require us to advise you of such designation. Your comments are always welcome. © 2021 Dykema Gossett PLLC.