Dykema's M&A Deal Momentum Accelerates in Fourth Quarter
January 23, 2019
The fourth quarter was a busy one for Dykema's M&A practice. In total, we closed 14 transactions, representing the buyers in eight deals and the sellers in six. The industries covered included liquor distribution, healthcare, automotive, technology, transportation logistics, dental service organizations and death care, and the average deal size was $21M. Below are the details on some of the more significant deals we closed.
The fourth quarter was a microcosm of the year for our M&A practice. During 2018, we closed 47 transactions with an average deal size of $24M. Our industry-leading dental service organization practice was once again quite busy, closing 11 transactions. Other active industry sectors were automotive (six closed deals), transportation logistics (four closed deals), technology (four closed deals) and death care (three closed deals).
We anticipate another robust year for our M&A practice, and the results of Dykema's annual M&A survey would seem to support that optimism. That survey showed more optimism from our respondents—principally dealmakers and their service providers in the middle market—than we had seen in the previous 14 years we have conducted it. And though there was certainly some cooling of the economy since our survey was conducted last Fall (and considerable cooling in the public markets since then), we do not see anything that should alter the fundamental direction of the M&A market this year.
We look forward to working with you on a deal this year.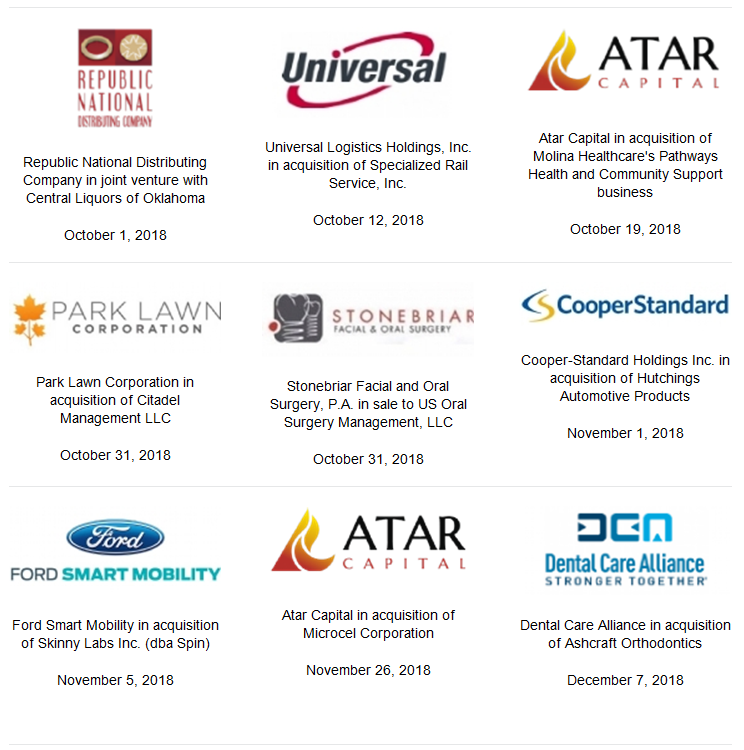 As part of our service to you, we regularly compile short reports on new and interesting developments and the issues the developments raise. Please recognize that these reports do not constitute legal advice and that we do not attempt to cover all such developments. Rules of certain state supreme courts may consider this advertising and require us to advise you of such designation. Your comments are always welcome. © 2021 Dykema Gossett PLLC.