Attorneys
Dykema Cox Smith's 13th Annual Mergers & Acquisitions Outlook Survey Results
The results of the Dykema Cox Smith Annual Mergers & Acquisitions Outlook Survey are in! This annual survey tracks the marketplace to gauge the direction of the M&A market and economy for the coming year.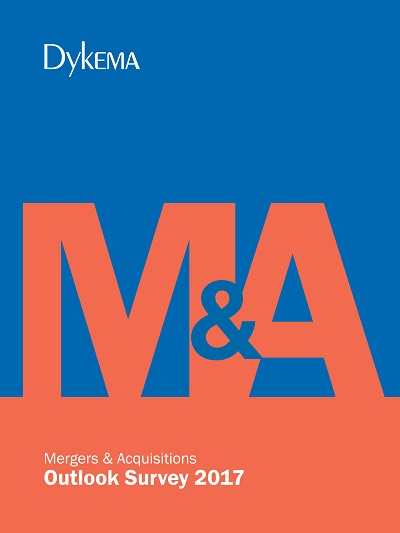 As with previous installments of the survey, our firm canvassed leading company executives and outside advisors in the M&A space to ask them to share their observations and insights into how the U.S. economy and domestic and global matters will impact the M&A market.
"The middle market is quickly becoming the focus of M&A," said Jeff Gifford, co-leader of Dykema Cox Smith's M&A practice. "Technology and healthcare are two of the more active spaces, with fintech becoming an increasingly popular area of interest. Megadeals have lost some of their steam and we are seeing more and more companies pursuing small to middle market strategic transactions."
Learn more about marketplace expectations that may determine the direction of M&A for the next 12 months by clicking here or contacting one of our San Antonio attorneys in our Mergers & Acquisitions practice.
Founded in San Antonio, Dykema Cox Smith has served as counsel for M&A transactions in South Texas for decades. We are adept at representing middle-market public and private companies in M&A as well as representing very large Fortune 500 companies with their middle-market M&A transactions (e.g., spinning off or acquiring mid-sized business units). We apply this middle-market expertise in the work we do for our Private Equity clients. This includes a deep understanding of financing and financing sources, in all facets of capital raising, including seed and angel, mezzanine, venture capital and other equity financings, as well as leveraged acquisitions and recapitalizations.