2017 Mergers & Acquisitions Outlook Survey
The results of Dykema's Annual Mergers & Acquisitions Outlook Survey are in! This annual survey tracks the marketplace to gauge the direction of the M&A market and economy for the coming year.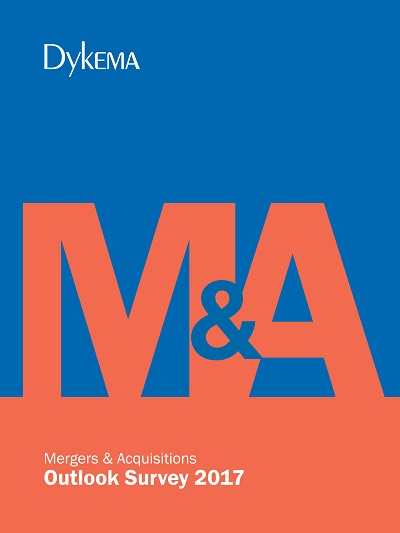 As with previous installments of the survey, our firm canvassed leading company executives and outside advisors in the M&A space to ask them to share their observations and insights into how the U.S. economy and domestic and global matters will impact the M&A market.
"With the uncertainty around the presidential election in the rearview, our survey respondents are abandoning the 'wait and see' mantra, with an increasing number predicting that deal activity is back on the rise," said Thomas Vaughn, co-leader of Dykema's M&A practice. "In this year's survey, we are, however, still hearing that uncertainty around the Trump administration's priorities and regulations will have the greatest impact on M&A from a global perspective."
"The middle market is quickly becoming the focus of M&A," said Jeff Gifford, co-leader of Dykema's M&A practice. "Technology and healthcare are two of the more active spaces, with fintech becoming an increasingly popular area of interest. Megadeals have lost some of their steam and we are seeing more and more companies pursuing small to middle market strategic transactions."
Learn more about marketplace expectations that may determine the direction of M&A for the next 12 months by clicking here or contacting a member of our Mergers & Acquisitions practice.