2018 Mergers & Acquisitions Outlook Survey
October 17, 2018
The results of Dykema's Annual Mergers & Acquisitions Outlook Survey are in! This annual survey tracks the marketplace to gauge the direction of the M&A market and economy for the coming year.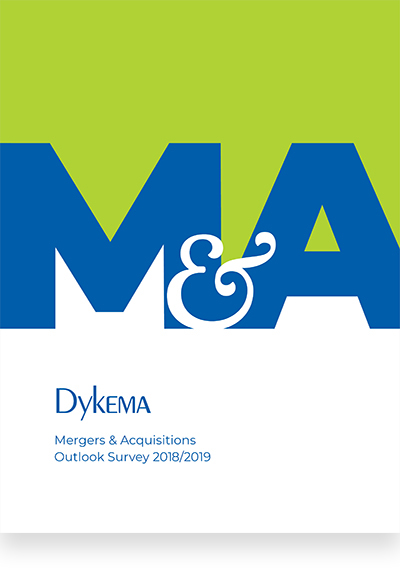 As with previous installments of the survey, our firm canvassed leading company executives and outside advisors in the M&A space to ask them to share their observations and insights into how the U.S. economy and domestic and global matters will impact the M&A market. Respondents expressed the highest level of optimism for the M&A market in the 14-year history of the firm's survey.
"The spike in optimism in this year's survey was not a surprise. We've been hearing a similar sentiment from all of our clients, largely fueled by the strong economy, successful completion of several major megadeals this year, and the strength of the financial markets when the survey was taken in the summer of 2018," said Tom Vaughn, co-leader of Dykema's M&A practice. "While there is no sign of optimism in M&A slowing down, many in the industry are wondering if it will be able to continue at this pace and, if not, when the next downturn will arrive."
"One of the more interesting findings from this year's survey is the respondents selected the automotive industry as the sector they expect to see the most M&A activity in the coming year, with healthcare and technology dropping to the fourth and fifth sector ranking," said Stephen Sayre, co-leader of Dykema's Mergers & Acquisitions sub-practice group. "Dealmaking in this section could be vigorous as the automotive industry hits a wave of disruption with the rise of connected and driverless cars."
Learn more about marketplace expectations that may determine the direction of M&A for the next 12 months by clicking here or contacting a member of our Mergers & Acquisitions practice.