Third-Party Discovery Issues in Arbitration Proceedings
Dykema Litigation Institute Webinars
11.17.21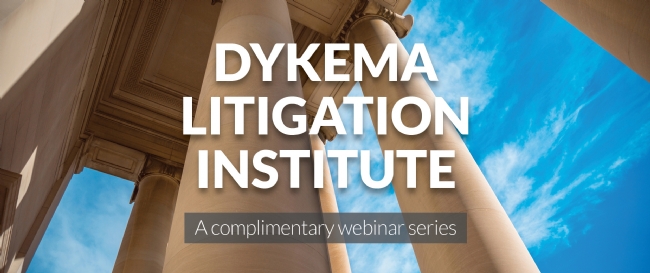 Join Steve Mroczkowski and Jennifer Warner for an overview of issues related to third-party discovery in arbitration proceedings. During this presentation they will examine arbitration rules that can apply, as well as the logistics of issuing third-party discovery. Enforcement, and conversely, defense, related to pre-hearing third-party discovery will also be examined.
Wednesday, November 17, 2021
1:00 p.m. – 2:00 p.m. EDT
Speakers: Steve Mroczkowski, Senior Counsel, Chicago and Jennifer Warner, Senior Attorney, Chicago
CLE accreditation is anticipated for California, Illinois and Texas. We provide Uniform Certificates of Attendance and jurisdiction-specific information for those licensed in other jurisdictions. Please contact Kelsey Rustigian at krustigian@dykema.com with questions.