Attorneys
Practice Areas
DXC Technology Presents 2020 Strategic Partner Award for Empowerment to Dykema
February 7, 2020
Dykema, a leading national law firm, is extremely proud to announce that it was selected by firm client DXC Technology to receive its 2020 Strategic Partner Award for Empowerment. The Strategic Partner Awards are the highest form of recognition DXC confers on its outside counsel and are modeled after the values of its Legal Department; Trust, Ownership and Empowerment. The Empowerment Award was presented to Dykema for helping DXC achieve its objectives at the company's Strategic Partner Summit held at its headquarters in Tysons, Virginia.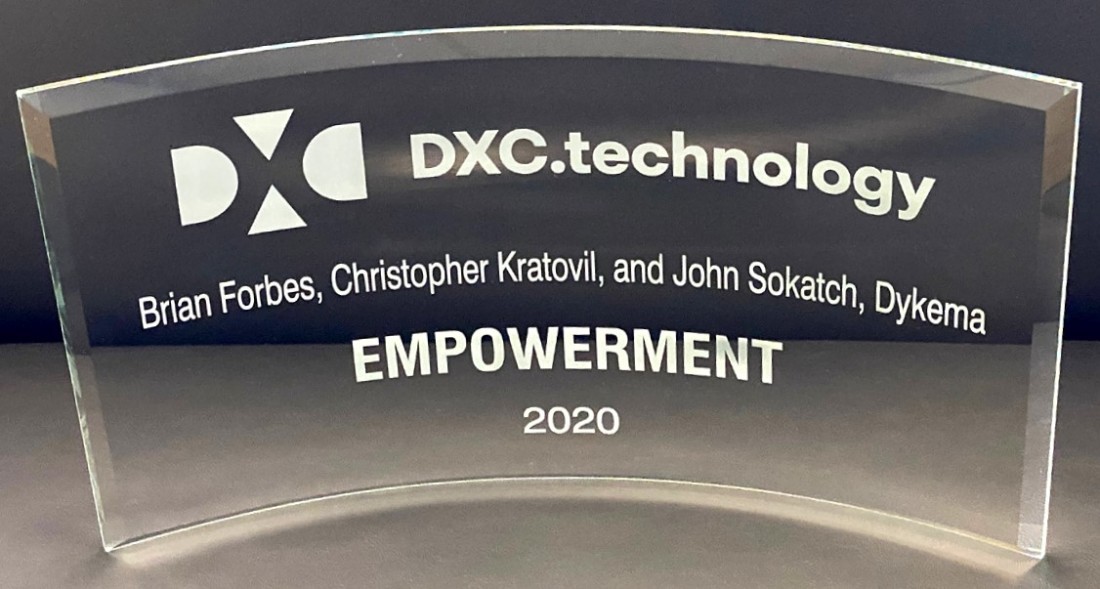 Dykema was selected for the Empowerment Award as a result of its work on a multimillion-dollar real estate transaction and related litigation on behalf of DXC. Dykema handled the sale of DXC's 90+-acre corporate campus in Plano, Texas, which contains more than 1.5M square feet of office space and is the former headquarters of Ross Perot's Electronic Data Systems (EDS).
The Dykema real estate team that handled the sale included Brian Forbes and Bob Feroze, while the Dykema team of Chris Kratovil, John Sokatch and Joe Rubio litigated a subsequent civil case against a disgruntled unsuccessful bidder, which allowed the sale of the campus to close. The Dykema litigation team then obtained dismissal of the remaining claims that had sought millions of dollars in damages from DXC.
DXC and Dykema's strategic partnership began with their involvement with AdvanceLaw, a collective of leading general counsel that works to identify top lawyers at innovative, high-quality law firms that consistently provide strong value to their clients. Kevin Snyder serves as the relationship attorney for Dykema.