Attorneys
Practice Areas
Dykema Hosts Chicagoland Chamber of Commerce Council on Logistics & Transportation
November 1, 2016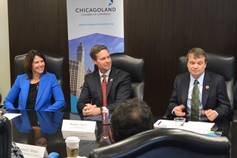 In partnership with the Chicagoland Chamber of Commerce, Dykema's Chicago Office recently hosted the first public event for the Chamber's Council on Logistics & Transportation. The forum featured a bi–partisan U.S. congressional panel. The three members of Congress in attendance at the forum were Cheri Bustos (D-East Moline), Rodney Davis (R-Taylorville) and Mike Quigley (D-Chicago) (all pictured at left).
This event came about following a discussion between Mike Borders, Office Managing Member of Dykema's Chicago Office and a Chamber board member, Scott Selinger, a Dykema government policy advisor from Illinois, and Congresswoman Bustos. Selinger coordinated the event with the Chicago Chamber and the congressional staff.
Some of the major companies and chamber members who attended the council included Ford, United Airlines, American Airlines, Southwest Airlines, Emirates, CSX Transportation, Union Pacific Railroad, Siemens, UPS, Verizon, AT&T, T-Mobile, BP, GE Transportation, Walmart, Target, Uber and Lyft, among many others.