Veterinary Service Organizations (VSO)
As the demand for veterinary services continues to grow, the option to enter into a management services organization has also been significantly rising. At Dykema, we provide a full array of services to veterinarians and veterinary service organizations. We have decades of experience in working with managed service organizations and are skilled at addressing questions regarding the VSO model. Whether it is through continued ownership, selling your practice, setting up a VSO, affiliating with a practice or exploring growth opportunities, we are uniquely qualified to assist with deal negotiations to help them go as smoothly as possible.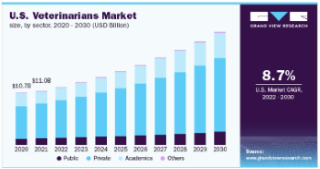 The market is expected to grow by 8.7% through 2030, providing a solid market for investments in VSOs.
The U.S. veterinarian market size was valued at USD 11.03 billion in 2021 and is expected to expand at a compound annual growth rate (CAGR) of 8.7% from 2022 to 2030. The growing animal population, uptake of pet insurance, and expenditure on the well-being of pets are the key market drivers. (Source: Grand View Research)
Our team is known for our comprehensive knowledge of the laws and regulations that govern the veterinary industry, as well as the complex compliance requirements that vary from state to state. We work extensively with managed service organizations, representing buyers, sellers, private equity and venture capital firms, and other investors in M&A deals in a wide variety of capital-raising and complex transactions.