Donald Trump Upsets Hillary Clinton to Win Presidency
Republicans Retain Control of Senate and House
November 9, 2016
Donald Trump was elected as the 45th President of the United States, marking the first time a candidate without ever holding public office or serving in the military has been elected to the presidency. Mr. Trump impressively won close races in the toss-up states of Ohio, Florida and North Carolina early in the night, and then later in the evening broke through in a series of states Secretary Clinton was expected to carry, winning in Pennsylvania and Wisconsin. Mr. Trump also is leading in several more states including New Hampshire, Michigan and the 1st District of Maine. Although there is still a chance that Secretary Clinton wins the popular vote, Mr. Trump is on pace to secure at least 300 electoral votes giving him a decisive victory in the Electoral College and potentially exceeding the number of electoral votes President Obama received in 2012.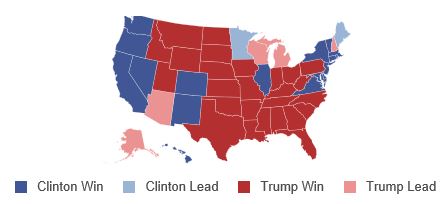 Senate Republicans Hold Majority at 51-47
Despite having to defend nearly twice as many seats as Democrats, Republicans easily maintained their majority of the U.S. Senate, likely losing only one seat. The current make-up of the Senate gives the Republicans 51 seats with the likelihood they will prevail in New Hampshire and Louisiana. Republicans were able to hold on in tight races in Wisconsin, Pennsylvania, North Carolina, Indiana and Florida. In Wisconsin, Ron Johnson defeated Russ Feingold, whom Johnson had taken the seat from in 2010; in Pennsylvania Senator Pat Toomey held off a challenge from Kathleen McGinty; Senator Richard Burr defeated North Carolina state legislator Deborah Ross; Congressman Todd Young convincingly defeated former Senator Evan Bayh in Indiana; and despite late entry into the race incumbent Senator Marco Rubio easily defeated Congressman Patrick Murphy. Incumbent Kelly Ayotte is also currently ahead by a razor-thin margin in New Hampshire. Incumbent Senator Mark Kirk (R-IL) lost his re-election bid to Congresswoman Tammy Duckworth and Democrat Catherine Cortez Masto was elected to the Senate from Nevada holding onto the seat of outgoing Senator Majority Leader Harry Reid for Democrats. Since none of the candidates in Louisiana received 50 percent of the vote, a run-off election is scheduled for December 6 with Republican John Kennedy expected to prevail.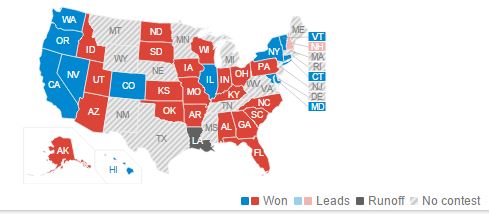 House Republicans Retain Strong Majority
Although Democrats made a modest gain of four seats in the House of Representatives with results of 16 races yet to be announced, Republicans maintain their large majority giving President-elect Trump a Republican-controlled Congress.

The four House incumbents defeated on Election Day were:
Scott Garrett (R-NJ), a member of the Financial Services Committee
Bob Dold (R-IL), Ways and Means Committee member
John Mica (R-FL), a former Chairman of the House Transportation and Infrastructure Committee
David Jolly (R-FL), Former Republican Governor Charlie Crist ran as a Democrat and ousted the 1st-term Congressman.
Outlook for Lame Duck Session
With one of the most divisive campaign seasons ever now over, Congress is scheduled to convene next week to tackle a few remaining items on the agenda during a lame-duck session. The surprising results of Tuesday's election likely mean a quick lame-duck session. It is highly unlikely Congress will tackle any major issues such as the Trans-Pacific Partnership, a Supreme Court nomination or tax extension legislation. The most pressing issue Congress must address is that the current Continuing Resolution funding the government expires on December 9. While much of the discussion to this point has focused on whether Congress approves a single omnibus spending bill or a series of "minibus" bills that fund specific federal agencies. With the new Trump Administration taking office on January 20, Republicans have very little incentive to negotiate a year-long spending bill with the outgoing Obama Administration. The more likely outcome is the approval of a short-term Continuing Resolution that delays major funding decisions and allows the incoming Administration and Congressional Republicans to put their stamp on the nation's spending priorities. In addition to legislation to prevent a government shutdown, Congress is likely to focus on a handful of must-pass issues, like the National Defense Authorization Act, which authorizes funding for the military, and the Water Resources Development Act, which provides funding for water infrastructure projects. Fred Upton, the outgoing Chairman of the House Energy and Commerce Committee, is strongly pushing Congress to approve the bipartisan 21st Century Cures Act, which would transform how the federal government funds medical research, before Congress adjourns for the year.
One more thing to watch when Congress returns to Washington next week is the House leadership elections. Congressional Republicans plan on holding initial leadership votes the week of November 14 with House Speaker Paul Ryan (R-WI) seeking re-election as House Speaker. No changes are expected at those caucus elections for the top three leadership slots of Speaker, Majority Leader, and Majority Whip. However, a rift between President-elect Trump and Speaker Ryan during the campaign could complicate the Speaker's standing with some members of his Conference and possibly make the floor vote for Speaker when Congress convenes in early January more precarious.
As part of our service to you, we regularly compile short reports on new and interesting developments and the issues the developments raise. Please recognize that these reports do not constitute legal advice and that we do not attempt to cover all such developments. Rules of certain state supreme courts may consider this advertising and require us to advise you of such designation. Your comments are always welcome. © 2021 Dykema Gossett PLLC.