Republicans Win Control of Senate, Expand Majority in House of Representatives
November 5, 2014
Unofficial results from yesterday's midterm elections show that Republicans are now the majority party in the United States Senate and have increased their majority in the House of Representatives by at least 13 seats. This marks the first time since 2006 Republicans have been in charge of the Senate and the first time since 1999 that Congress is under Republican control with a Democratic president. In the Senate, Republicans now hold a 52 to 46 majority with one seat, Louisiana, to be determined in a Dec. 6 runoff election and a winner yet to be declared in Alaska. The make-up of the House of Representatives is now 243 Republicans to 175 Democrats with 17 races still too close to call.
2014 Senate Seats Gained and Held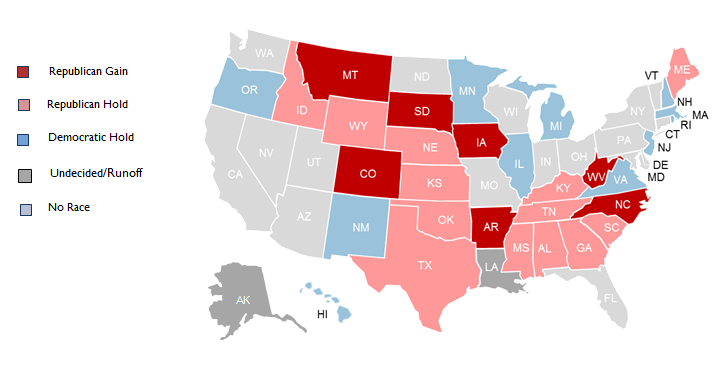 In the Senate, Republicans nearly ran the table winning eight of the nine most competitive races and nearly upset Senator Mark Warner in Virginia. Perhaps the biggest surprise of the evening was how early in the night the Republican winners were declared in the heated races in Kentucky, Arkansas, Colorado, Georgia, Iowa, Kansas and North Carolina to give the Republicans majority control. Senator Mitch McConnell (R-KY), who easily won re-election, will now become the Senate Majority Leader and John Cornyn (R-TX) is expected to serve as the Majority Whip. It is important to note that despite the significant Republican electoral gains, they do not have the 60 votes required to prevent Democratic filibusters, much less the 66 votes needed to override a Presidential veto. As a result, Senate Republicans will still need modest Democratic support for their measures in order to end the gridlock that has paralyzed the nation's capital in recent years.
Largest Republican House Majority since 1930's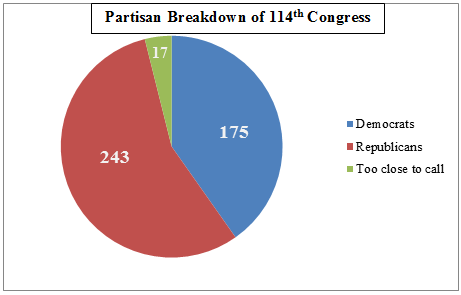 Republicans in the House of Representatives exceeded expectations on election night and are poised to increase their majority by at least 13 seats, giving them their largest majority since 1946. The increased majority will likely improve Speaker Boehner's standing in the Republican Conference and silence those members of the Republican conference who had hoped to replace the Speaker with a more conservative member in the new Congress. Republican leaders in the House and Senate have pledged to work together closely and have already proposed a bicameral retreat in order to set their agenda for the upcoming Congress.
Outlook for Lame Duck Session
With the November elections now behind them, Congress is scheduled to begin a "lame duck" session next week. During what is expected to be a short legislative session, Congress will likely focus on four primary issues: appropriations for the remainder of fiscal year 2015, tax extenders, reauthorizing the Terrorism Risk Insurance Act (TRIA) and foreign policy matters related to arming and training Syrian rebels to fight ISIS. In addressing several of these issues, Congress must decide between passing a short-term extension of these matters in order to give the new Republican Congress the opportunity to influence the legislation or to approve long-term measures for issues like appropriations and TRIA in order to allow the new Congress an opportunity for a fresh start when they convene in January.
What to Expect in the New Congress
When the 114th Congress convenes in January 2015, there will be several legislative items with pending deadlines that will have to be addressed. These include potentially reaching the debt limit in March, which would require an increase or cause a government default on its debt; expiration of delayed cuts to doctor reimbursements under Medicare, or the so-called, "doc fix," in April; expiration of the surface transportation program, MAP-21, extension in May; and expiration of the extension of the Export-Import Bank's charter in June. With both houses of Congress controlled by Republicans, there will likely be a strong push to reduce spending levels under an agreement to raise the debt ceiling and the majority leaders in the House and the Senate could look to attach priority items, such as approval of the Keystone XL Pipeline, to the debt limit legislation. Additionally, Republican leaders in both chambers will likely insist on passing budget resolutions to set spending and revenue guidelines for the upcoming fiscal years. On the doc fix issue, Republicans can be expected to pursue deficit reduction as a means to pay for a long-term extension. When the surface transportation program and Highway Trust Fund reserves run out in May, Republicans may seek to change the spending levels and possibly eliminate the gas tax as the primary resource for the Highway Trust Fund. While Republicans in the House and the Senate will largely work to align themselves on major policy issues, debate over extending the Export-Import Bank will likely be contentious among Republicans and at this point, it is unclear which position will prevail.
Other priority issues which could possibly be addressed by the 114th Congress include immigration reform, EPA regulatory activity, the Affordable Care Act, tax reform, foreign policy and trade. With a new Republican-controlled Senate, it is more likely that the two chambers could work together to pass legislative items related to immigration such as increasing border security and deportations, and repealing the Deferred Action for Childhood Arrivals (DACA) executive order. The Republican Congress is also more likely than a split congress to pass legislation blocking EPA regulations on greenhouse gas emissions from power plants and EPA efforts to update the Clean Water Act, as well as make changes to or repeal portions of the Affordable Care Act such as changing the definition of a full-time worker, giving insurance policy holders more options to keep the plans they have and repealing the medical device tax. Additionally, while the idea of Congress enacting comprehensive tax reform in the next Congress is still a longshot, it is more likely with Republicans leading both the House and the Senate. Additionally, the new Republican Congress could push President Obama to be more forceful with Iran on nuclear negotiations and will have to determine whether to continue arming and training Syrian rebels. Finally, it is likely that the Republican Senate will push to grant President Obama Trade Promotion Authority to finalize two pending international trade agreements, the Trans-Pacific Partnership and the Transatlantic Trade and Investment Partnership, but unclear whether they could overcome a 60-vote threshold threatened by incoming Minority Leader Harry Reid. Finally, another issue that the 114th Congress could tackle under Republican control is education reform.
In order to discuss the path moving forward, President Obama has invited congressional leadership to a meeting at the White House on Friday. Historically, lame duck administrations are known for using executive powers to pass any remaining agenda items and it is expected President Obama will utilize that regulatory authority on issues such as immigration, infrastructure and early childhood education. Given a compacted timeframe before the 2016 presidential campaigns dominate the landscape, President Obama has about nine months to work with the new Republican Congress to enact legislation to address these important issues.
Should you have any questions, please contact the authors of this alert, Andy Buczek (ABuczek@dykema.com or 202-906-8655) or Mary Beth McGowan (MMcGowan@dykema.com or 202-906-8631), both Government Policy Advisors with Dykema's Government Policy Practice Group.
As part of our service to you, we regularly compile short reports on new and interesting developments and the issues the developments raise. Please recognize that these reports do not constitute legal advice and that we do not attempt to cover all such developments. Rules of certain state supreme courts may consider this advertising and require us to advise you of such designation. Your comments are always welcome. © 2021 Dykema Gossett PLLC.