Navigating the Turbulent Waters of Workplace Compliance and Litigation
October 16, 2014
Budgets of federal agencies charged with enforcing employment and labor laws have grown, and employers are the targets. The plaintiffs' bar is also not going away any time soon. Hear directly from local "top cops" of two federal agencies, and join Dykema attorneys to discuss and learn how to navigate current and emerging issues in labor and employment law and employee benefits litigation.
We are pleased to welcome two excellent afternoon panelists:
Gail D. Cober, Director, EEOC Detroit Field Office
Terry A. Morgan, Director, NLRB Region 7
Our entertaining luncheon (included with your registration) features bestselling author and award-winning speaker John U. Bacon, author of Bo's Lasting Lessons: The Legendary Coach Teaches the Timeless Fundamentals of Leadership.
________________________________________________________________________________
Detroit Athletic Club
241 Madison Avenue, Detroit, MI 48226
Thursday, October 16, 2014
11:15 a.m.
Registration
11:45 a.m.

Lunch Featuring bestselling author John U. Bacon

"How to Hire Better and Fire Less"

1:00 p.m. - 4:30 p.m.
Program

Plenary Session: "Please Disperse: There's Nothing to See Here"

The Latest in Enforcement Efforts by the EEOC, DOL and NLRB; and How to Avoid Needlessly Costly Battles. Panelists include NLRB Region 7 Director Terry A. Morgan and EEOC Detroit Field Office Director Gail D. Cober.

And your choice of two of the following six breakout sessions:

Wage and Hour Compliance, and Common Mistakes Employers Too Often Make
How to Mess Up an I-9; and How to Survive an Audit
Chew on This:Digesting the Mandate and Imminent Requirements with the Affordable Care Act in 55 Minutes or Less
How to Avoid or Minimize Exposure for Trade Secret Misappropriation and Tortious Interference with Restrictive Covenants in the Hiring Process
Fun with ERISA Litigation: Four Top Cases from 2014 and Four Lessons for Plan Sponsors
Changes in Life Circumstances: Pregnancy, Caregiving Responsibilities and Aging Workforces

4:30 p.m. - 5:30 p.m.
Networking Reception
________________________________________________________________________________
Seminar Pricing
Individual: $95 per person
Organization: 1st person from the organization, $95; Additional attendees, $65
________________________________________________________________________________
This program has been approved for 3 (HR (General)) recertification credit hours toward PHR, SPHR and GPHR recertification through the HR Certification Institute. Please be sure to note the program ID number on your recertification application form. For more information about certification or recertification, please visit the HR Certification Institute website at www.hrci.org.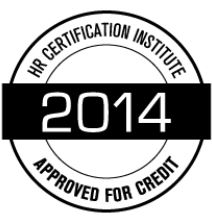 The use of this seal is not an endorsement by the HR Certification Institute of the quality of the program. It means that this program has met the HR Certification Institute's criteria to be pre-approved for recertification credit.