Contacts
Professionals
Related Practices
Related Sub-Practices
Related Industries
Overview
Ranked as a 2019 national "Best Law Firm" in Litigation - Labor & Employment by U.S. News - Best Lawyers®, Dykema's team of labor and employment lawyers applies in-depth knowledge of ever-changing legal issues to the representation of corporate and public employers in such diverse fields as retail, manufacturing, construction, transportation, banking and finance, health care, government and education.
Dykema provides strategic counsel on all employment-related issues, from civil rights and employee benefits to union negotiations, immigration and litigation. With our advice, clients can navigate and comply with complex laws and meet specific employment-related objectives. Dykema also maintains a labor and employment law blog (www.laboremployment-lawblog.com), in which attorneys highlight important legal developments with practical implications for companies in all industries.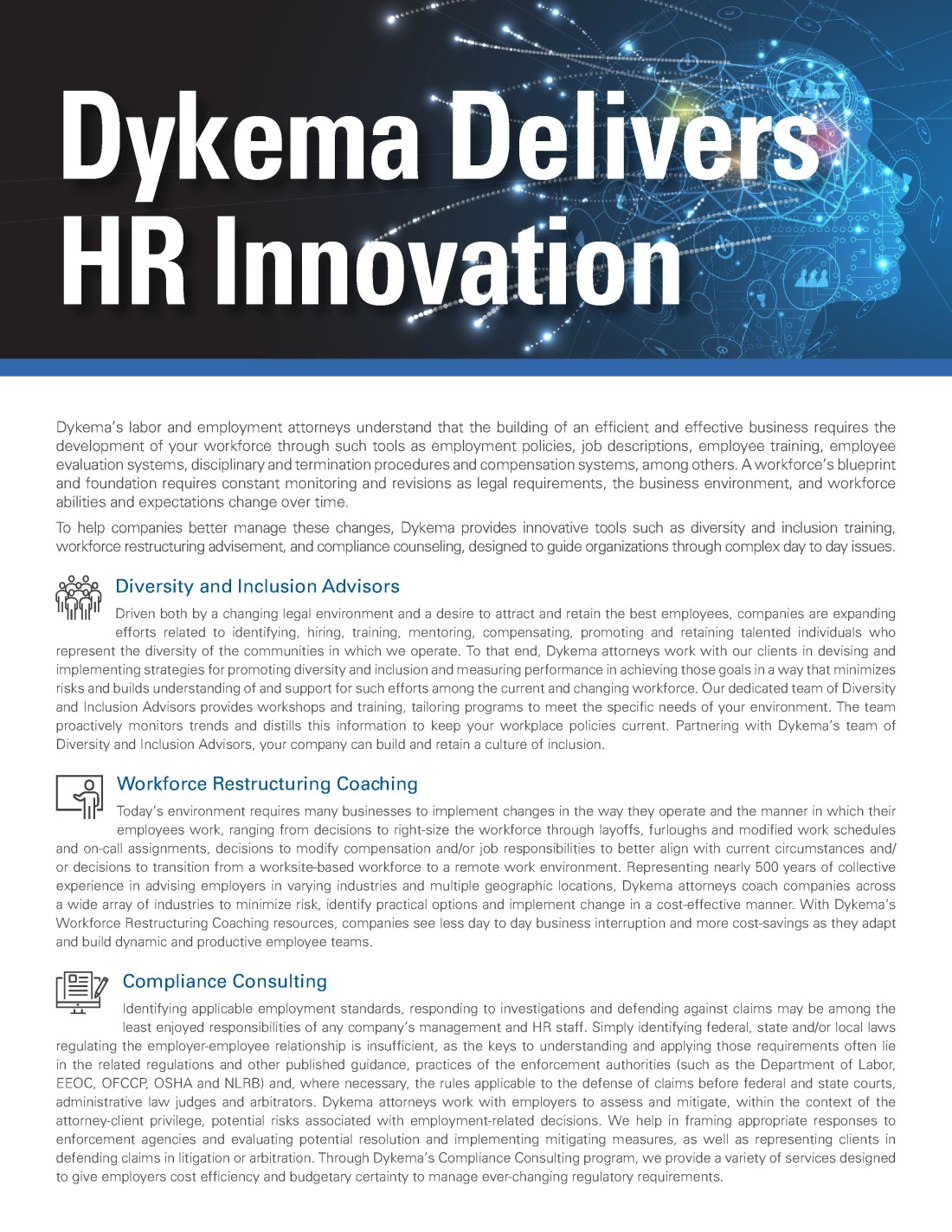 Dykema's labor and employment attorneys understand that the building of an efficient and effective business requires the development of your workforce through such tools as employment policies, job descriptions, employee training, employee evaluation systems, disciplinary and termination procedures and compensation systems, among others. Dykema provides innovative tools such as diversity and inclusion training, workforce restructuring advisement, and compliance counseling, designed to guide organizations through complex day to day issues. We provide a variety of services, within the context of attorney-client privilege, designed to give employers cost efficiency and budgetary certainty to manage ever-changing legal and regulatory requirements. Click here to learn more about how Dykema Delivers HR Innovation, addressing the most-pressing issues impacting employers in today's environment.
When litigation of employment claims is necessary, Dykema's attorneys draw upon a wealth of experience in defending these lawsuits in federal and state courts as well as before administrative agencies. That experience allows Dykema to tailor a defense to each client that is focused upon the needs of the business, as well as the exigencies of the litigation. The Firm recently ranked as a "Litigation Powerhouse" in Employment in the BTI Litigation Outlook 2018 report, based on direct client feedback from in-depth interviews with corporate counsel at the world's largest companies. Read more.
Chambers USA 2021 recognizes Dykema's "robust" and "highly active" labor and employment practice as well-versed in advising on traditional labor matters such as union issues, successfully negotiating collective bargaining agreements, representing employers in labor arbitrations, and addressing allegations of unfair labor practices. Read more.
Dykema attorneys understand that preventing employment disputes is preferable to litigating them, and work closely with clients to develop and implement policies and procedures tailored to the unique labor and employment challenges faced by your organization. Clients note that Dykema "provides excellent support for sensitive decisions" (Best Law Firms 2018). Read more.
Allegations of improper conduct under ERISA—whether based in complex claims for breach of fiduciary duty or taking the form of a simple denial of benefits claim—pose their own set of unique challenges. Dykema's attorneys are experienced in the defense of ERISA litigation at both the trial and appellate level. Read more.
Companies operating globally need the best talent available, and the ability to relocate employees to meet business needs. We offer a complete portfolio of employment-based U.S. immigration-related services that includes temporary and permanent visa processing procedures, PERM labor certification applications, as well as family-based immigration sponsorship and naturalization assistance. Read more.
Disputes over non-compete agreements often position employers against each other, particularly in the technology industry. We have handled litigation representing both employees' former and new employers and are prepared to help our clients to seek and resist applications for temporary restraining orders and permanent injunctions, as well as to prosecute and defend claims of tortious interference with employment contracts and misappropriation of trade secrets. Read more.
Wage and hour issues can cost an employer more than money: problems in this area also tend to be disruptive to the workplace and invite government scrutiny. Our employment attorneys are well-versed in the wage and hour laws and help clients bring their payroll practices into compliance and keep them that way. Read more.
News
Press Releases
Publications
Events & Speaking Engagements
Articles & Alerts